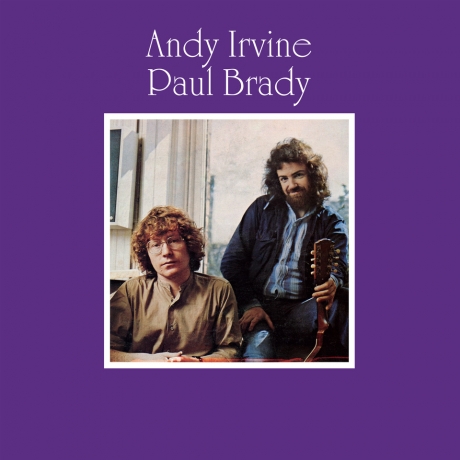 ANDY IRVINE & PAUL BRADY
Philippe Cousin
It is certainly one of the key albums of Irish music that the American label Compass has chosen to release in 2022.
In 1975, the band Planxty broke up and two of its members, Andy Irvine and Paul Brady, decided to continue the adventure as a duo. In the late summer of 1976, a self-titled album was released, recorded by their former colleague Dónal Lunny, who had just founded the Mulligan label.
From the original tapes of the album, the ten tracks were remastered, giving it a high sound and musical quality. Andy and Paul are accompanied by Dónal Lunny on bouzouki and Kevin Burke on fiddle, both members of the famous Bothy Band who were recording their first album at the time.
The result is great and will make you (re)discover some of the duo's emblematic tracks. Plains of Kildare, which tells the story of a horse meeting and whose frantic rhythm aptly suggests the galloping of racehorses. This is followed by the love song Lough Erne Shore, in which Paul Brady's delicate voice is appreciated. Several songs with an army and war theme, Arthur McBride And The Sergeant, an anti-recruitment song, a song adapted by Bob Dylan in 1992. And then Mary And The Soldier or Martinmas Time.
There is also Autumn Gold, a ballad composed by Andy during a stay in Eastern Europe. The album ends with The Little Stack of Wheat, also known as The Stack of Barley. Of note among the ten tracks are two instrumentals. This excellent reissue of an Irish music standard has been assembled with all the love and respect that such a classic deserves. Both the LP and the CD are carefully presented, with a very long text telling the story of the album's creation, as well as interviews and testimonies from artists such as Glen Hansard, Liam Ó Maonlaí or Daragh Lynch.
Already it is rumoured that this mythical duo could return to the stage during a tour next autumn.
Mulligan Music LUN LP 3108 - www.compassrecords.com