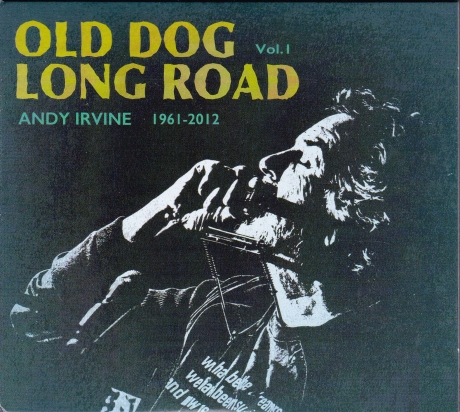 ANDY IRVINE
Old Dog Long Road Vol.1
Philippe Cousin
Andy Irvine is one of Ireland's most talented singers.
For almost sixty years he has been performing all over the world, either solo or in the many bands he has helped to found: Sweeney's Men, Planxty, Patrick Street, Mozaik, Usher's Island... His distinctive voice touches the very soul of Ireland and he has sometimes been hailed as "a tradition in himself". He began recording for his own enjoyment in 1960. And sixty years later, he is still there, immovable at the height of his seventy-eight springs.
New album today, Old Dog Long Road. New? Not really, since Andy has tapped into all the tracks recorded during his long career. So we can listen to on two CDs, twenty-four songs ranging from 1961 when he was only nineteen years old Truckin' Little Baby or Reuben's Train recorded at home in 1968. And so on until 2012. This opus should not be considered as Andy's last album but on the contrary as the first retrospective collection of recordings from his personal archives, covering half a century.
Throughout his peregrinations, he was accompanied by Johnny Moynihan, Dónal Lunny, Frankie Gavin, Kevin Burke, Jackie Daly, Rens van der Zalm or Gerry O'Beirne, all of whom can be found on this interesting collection of ballads. We also witness Andy's musical evolution over the years, from the blues-ragtime of his early days on the American guitar to the traditional Irish music on the bouzouki, with a few forays into the Balkans with Chetvorno Horo.
We will recognize some of the songs that were the highlights of his various bands Dublin Lady or Bonny Light Horseman. Small curiosity is Longford Weaver on which Andy plays exceptionally on the hurdy-gurdy. Most of these tracks are unreleased and have been gleaned here and there, studio demos or concerts given at the Lobby Bar in Cork. Andy's particularity has always been his unparalleled ability to play very complex accompaniments while maintaining expressive vocal performances. And that's just Volume 1. What does he have in store for Volume 2 to come?
Autoproduit AK-8 - www.andyirvine.com