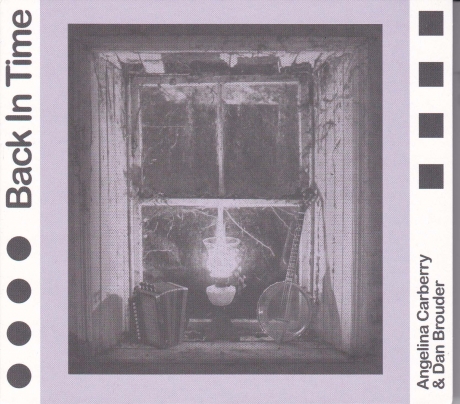 ####
ANGELINA CARBERRY & DAN BROUDER
Back In Time
Philippe Cousin
Born in Manchester into an Irish family from County Longford, Angelina Carberry was immersed in traditional music from an early age.
She started with the tin whistle and then the tenor banjo, following in the footsteps of her father Peter and her grandfather Kevin.
She has lived in Galway since the late 1990s and has developed a very personal style based on original rhythms.
Dan Brouder is a representative of the West Limerick accordion style who learned his art from accordionist Dónal De Barra and flutists Francis O'Connor and Dónal O'Sulivan.
After releasing two solo albums, Angelina teamed up with Dan to release a successful debut CD in 2017. The current album, Back In Time is their second as a duo. Well, duet is not really the word, so many musicians accompany them here, including several members of Angelina's family. Starting with her father Peter on banjo, her daughter Shaunagh on tenor guitar, her niece Meabh on fiddle or her nephew Conor Lane on flute.
Women have often been neglected in Irish traditional music but Angelina and Dan have put together an incredible collection of tunes - some forty over 16 tracks - many of them written or played by women or celebrating them in their titles.
On the tracks, you'll recognise tunes that have been performed many times: The Wind that Shakes the Barley, The Bucks of Oranmore, Saddle the Pony, Boil the Breakfast Early, Green Grows the Rushes O...
Following her father's advice that musicians should research the music of their locality, Angelina put his advice into practice, collecting many tunes from the Longford area.
Over the years, Angelina and Dan have gained a well-deserved reputation for their banjo/accordion duo, to the extent that she has been named TG4 Musician of the Year 2021.
Their ability to sublimate certain tunes is obvious and they know how to marry diverse music in a harmonious way, gratifying us with rich and original arrangements around the banjo and tenor guitar, the accordion, the melodeon and many other instruments. An album of incredible musical richness that will not leave anyone indifferent.
Autoproduit - angelinacarberry@gmail.com