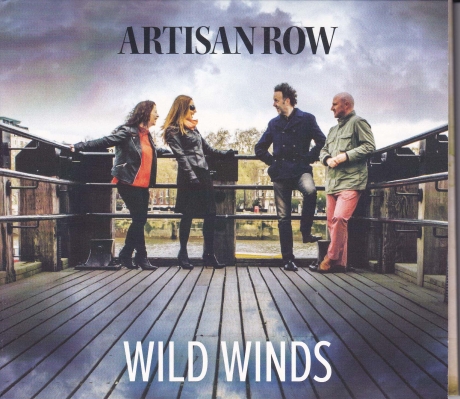 ####
ARTISAN ROW
Wild Winds
Philippe Cousin
The Irish diaspora is very present in London. And as the Irish are a people of musicians, what could be more natural than to find many traditional bands on London stages.
The umpteenth formation, Artisan Row is composed of musicians already known for their participation in other bands. Thus Karen Ryan (banjo, mandolin and fiddle) leader of The London Lasses. At her sides Conor Doherty (guitar and vocals), Elma McElligot (flute and sax) and Pete Quinn (keyboards), also a former member of The London Lasses.
Their debut album Wild Winds is a collection of traditional music and original songs, old and newer tunes with a touch of Eastern Europe. It is a generous album not only because of its musical richness but also because of the diversity of the thirteen tracks that can be heard on it.
The four members of the band have a fantastic musical versatility, as comfortable playing a wild jig as they are interpreting a love song. Reels, jigs and marches follow one another. Thus Red-Haired Lass, a joyful track that showcases the musical dexterity of fiddle and flute entwined in a vibrant interlacing. Helvic Head demonstrates the band's desire to offer a new setting for traditional music, with Karen's banjo and Elma's sax exploring an elegant and modern musical fusion.
Two tracks take us on a journey to the Balkans, Chetvorno Horo and Macedonian Oro, breathtaking tunes that highlight the complexity of these dances. Finally, four songs are present here, including Mary and the Soldier recorded a long time ago by Paul Brady, whose original interpretation of C. Doherty brings it a new energy.
A new formation to discover.
LoLa Records LL007 - facebook.com/artisanrowmusic