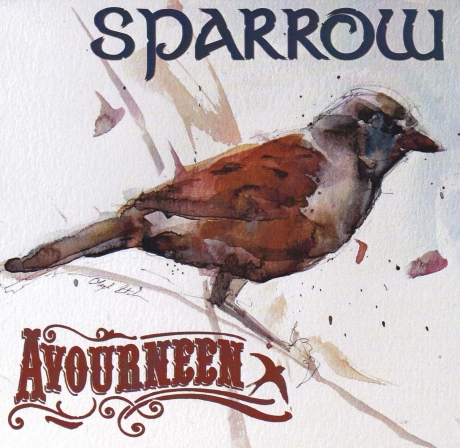 ###
AVOURNEEN
Sparrow
Philippe Cousin
Nothing at first predisposed the members of the band Avourneen to play Irish music since they are all real Americans.
Adam Goldstein, guitarist and singer is from Denver, Colorado. Kenny Martinez, double bass player is also from the same state. As for CL Morden, the violinist, born in California, he came to live in Denver. Finally to the original trio we should add the flute player Aeryn Parker, also from Colorado. Before taking an interest in Irish music, they all cut their teeth in a variety of styles, from classical to pop, jazz and folk, and even rock. But it was the music of Green Erin that brought them together. They will form their trio in 2014 and in the same year two of them travelled to Ireland to soak up the music at its source. The result was an eight-track album. But it is only this year, after six years of concerts during which they have amassed a wealth of songs and honed their skills, that they release their first album Sparrow.
On the fifteen tracks on the CD, the band explores traditional tunes (The Rising of the Moon, Follow Me Up to Carlow, Out on the Ocean or The Mason's Apron) and arranges tunes and songs by Liz Carroll (Sevens), Patrick Carpenter (Skibbereen) or Bobby Sands (I Wish I was Back Home in Derry). But they also wrote and composed several tracks (Sparrow, Banks of the Liffey, Cork March).
Far from being faithful to tradition, the members of the band have been able to adapt their various influences to their music. So it's not surprising to find traces of American folk, hints of rock or a pinch of vintage jazz.
As A. Goldstein likes to remind us, Irish music is timeless, but when played well, it is one of the most beautiful music in the world. An assertion that can be verified by listening to an original and energetic album.
Autoproduit - www.avourneen.com