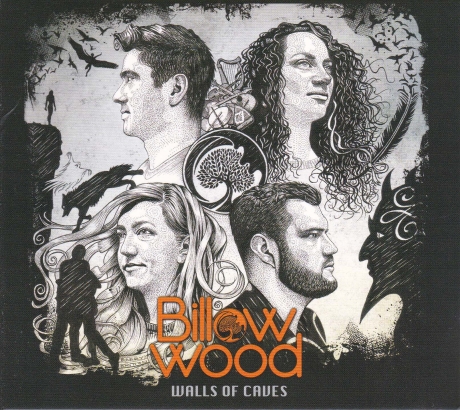 ###
BILLOW WOOD
Walls of Caves
Philippe Cousin
Another new band, this time from the west of Ireland, more precisely from County Mayo.
Three of its members out of four are named O'Donnell, Irish surname if there is one. Yet only two of them are cousins. They have all been fed with traditional music, but they have moved away from it a little as they grew up. And their music is an original fusion of traditional and contemporary pop rock, challenging pure tradition.
Their debut album Walls of Caves was released in March of this year, not exactly at a very auspicious time. Yet their music deserves to be listened to carefully. Carried by fiddle, harp, guitar, flute, tin whistle, accordion and bodhrán, it exudes a vibrant atmosphere deeply rooted in tradition.
Thirteen tracks follow one another, including two instrumentals, all composed by the different members of the group. Some tracks are reminiscent of the Corrs' music: Running from Wolf or Pushin' & Shovin' which mix traditional instruments with vocal harmonies, while Old Friend would be worthy of inclusion in Mary Black's repertoire. As for the instrumentals The Black River and The Ox & The Birch, they sound resolutely traditional.
In short, for those who would like to discover Irish music in a new light, listen to Billow Wood.
Autoproduit – www.billowwood.com