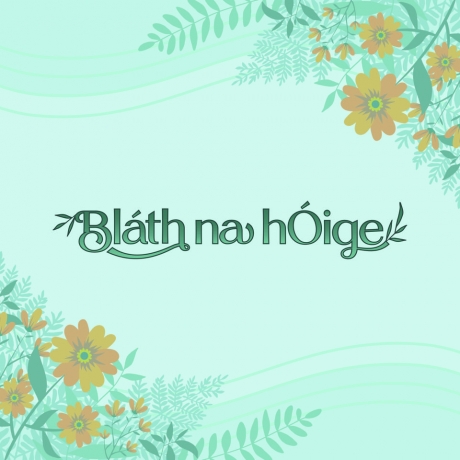 Bláth na hÓige
Philippe Cousin
Talented young singers and musicians are legion in Ireland.
Just like the Kreiz Breizh Akademi in Brittany, renowned musicians have on several occasions taken an interest in the rising stars of the tradition by training them, such as Dónal Lunny with the Ciorras collective a dozen years ago.
This time it's harpist and sean-nós singer Síle Denvir, accompanied by fiddler Colm Mac Con Iomaire, who has set about bringing together eight young singers and musicians from Ireland's four provinces, under the name Bláth na hÓige (Flower of Youth). An exciting new musical collaboration featuring some of Ireland's finest young singers.
Under the leadership of Síle and Colm, this young group showcases the multiple talents of each of them, since as well as singing, most of them play one or more instruments. Judge for yourself.
From Donegal, Cathal Ó Curráin (vocals, bouzouki and fiddle) and Megan Nic Ruairí (vocals and piano). From Connemara, brother and sister Séamus and Caoimhe Ó Flatharta (harp, low whistle, bodhrán and fiddle). From the Dingle peninsula in Kerry, Méabh Ní Bheaglaoich (vocals, accordion and bouzouki). From County Armagh in Northern Ireland, Piaras Ó Lorcáin (vocals, bouzouki and bodhrán). And from County Meath, north-west of Dublin, sisters Máire and Étáin Ní Churraoin (vocals).
As up-and-coming youngsters in the sean-nós tradition, they have found this project to be an exhilarating adventure and a memorable landmark in their musical experience. The Gael Linn label has teamed up with Aniar TV and TG4 (Telefeís Gaeilge Ceathair).
Sean-nós is an integral part of Ireland's cultural heritage. This tradition, similar to the Breton gwerz, has its origins at the very heart of Gaelic mythology.
After getting together on a number of occasions, they ended up in a studio in Connemara to record this magnificent album. Then it was a concert in Dublin last January that consecrated their meeting and their musical experiences within Bláth na hÓige.
The result of all this collective work is an absolutely fantastic album, in which these young people demonstrate an incredible talent. Please note, however, that the album is only available in digital format. You can watch and listen to the seven programmes that crowned this meeting on the TG4 website.
Gael-Linn - https://lnk.fu.ga/blathnahoige