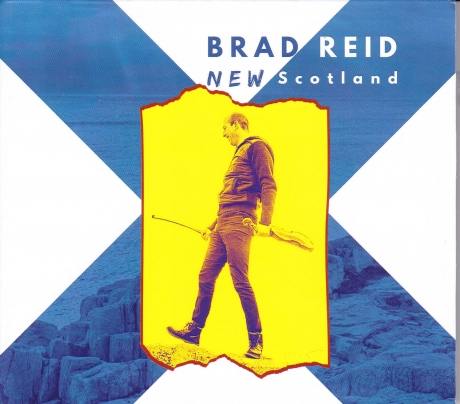 ####
BRAD REID
New Scotland
Philippe Cousin
Brad Reid hails from Cape Breton, Nova Scotia, an island off the coast of Canada.
The title of his album, New Scotland, is unequivocal. An unpretentious, rock-solid album based on the Cape Breton fiddle, but with international flavours, Latino influences with the congas, classical or jazzy elements, and even a pinch of hip-hop from more urban territories.
This album, on which Brad Reid (fiddle, guitar, bodhrán and two songs) is joined by Dave MacIsaac (guitar), Jamie Gatti (double bass) and Tom Roach (congas and various percussion instruments), highlights the fiddle, without question.
A calm, serene fiddle, even on the more danceable tracks, which forms the dominant backbone of the album. The other instruments are always in counterpoint to the fiddle, but they give it authority without competing with it.
Brad provides vocals on two tracks, one in Gaelic, Fonn Air Mo Mhàiri Laghaich and the second Lucy Campbell & Sandy Cameron, a fine example of lilting, a vocal technique unique to Scotland and Ireland, based on onomatopoeia produced by the language, Brad's own in this case.
The latter composed a majority of the tracks, ten out of the fifteen on the album, and the least we can say is that his inspiration is inexhaustible. We will linger in particular on Northumberland Shores, a slow and haunting tune, a melody destined to become popular.
Trip to Peggy's Cove, which from a distance would pass for a Breton andro. Glasgow Gate has a very jazzy sound and Road to Harrington, a town in Nova Scotia. And then there are a few traditional songs: King George or Hills of Glenorchy on which the fiddle is in full effect.
The album concludes with The Hector, on which the surf breaking on the shore weaves subtle interlacing with the fiddle.
Brad Reid is successful in Canada, but he would benefit from being known on this side of the Atlantic, and the FIL would be well advised to invite him soon.

Autoproduit BRM03 - www.bradreid.ca