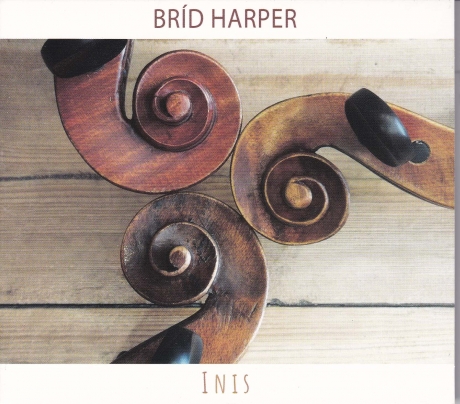 BRÍD HARPER
Inis
Philippe Cousin
Since she has been performing in Brittany, in particular at Toucouleur, Bríd Harper has been able to forge solid friendships in the Breton musical world.
Witness her third album Inis, on which she invited three leading figures of the Breton scene: Sylvain Barou (flutes, uilleann pipes and duduk), Nicolas Quemener (guitar) and Ronan Pellen (cistrum and viola da gamba). Recorded at the end of 2019 in Brittany but only released in spring 2022 due to various lockdowns, B. Harper's new album is once again a real gem.
Inis means both to tell or describe, it is also an island and it is the Irish name of the town of Ennis, where she first met Sylvain and Ronan.
This album combines traditional tunes with more recent compositions, including four songs by her mentor Tommy Peoples and four written by Bríd herself. Reels, jigs, hornpipes and highlands tunes sit alongside Scottish tunes and T. O'Carolan's Mrs. Judge, enhanced here by viola da gamba and flute, giving the piece a classic feel. The emotional depth of Ag Breathnú ar na féileacáin, a slow aria by Bríd, brings out the full brilliance of this fiddler. And the discreet but effective accompaniment of the three Breton musicians, which intertwines beautifully with the flowing lines of the fiddle, creates an atmosphere particularly conducive to reverie.
Throughout the album, lightness and harmony dominate. Bríd Harper's talent shines throughout the thirteen tracks that make up Inis.
Autoproduit - www.bridharper.com