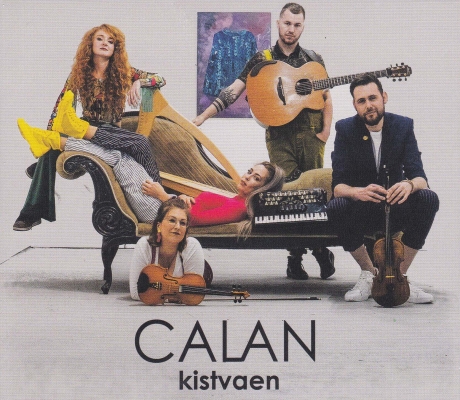 ####
CALAN
Kistvaen
Philippe Cousin
Formed in 2006 when its five members were still in their teens, the Welsh band Calan created a surprise at the Lorient festival in 2008, winning the international band trophy. They went on to record their first album, which was followed by four others.
Kistvaen is their sixth opus. Kistvaen is a burial chamber formed from stone slabs, an album title inspired by a day spent researching at the National Library of Wales in Aberystwyth.
The band has been maturing for twelve years now, but they haven't given up what is their hallmark. A lively music based on both traditional music and a contemporary approach due to the compositions of its own members, instrumentals that alternate with songs in Welsh and English.
This blend undeniably brings a fresh and vibrant sound to traditional Welsh music. As a testament to their talent, they also won the 2019 Welsh Folk Awards for Best Band.
Fifteen tracks contribute to the success of this album. The tone is set from the very beginning with Jêl Caerdydd who sees the five musicians bursting at full speed on a song with overflowing energy. The sequel is in line with the rest, with occasional calmer tracks such as 'Dolig Abertawe on which Shelley Musker Turner's harp takes you to ethereal heights. It is also Mari Morgan performed by Bethan Rhiannon with her crystal-clear voice.
Fiddles, guitar, accordion, Welsh bagpipes and harp form the backbone of an inspired music while Clog dancing gives a hellish rhythm to some of the pieces. The album concludes with Bailey's, three energetic traditional tunes that provide the final whiplash.
Welsh music is not very well covered by the media in our country and it is a shame because it has so much to share with the Breton music.
Recordiau Sienco SIENCOCD006 - www.calan-band.com