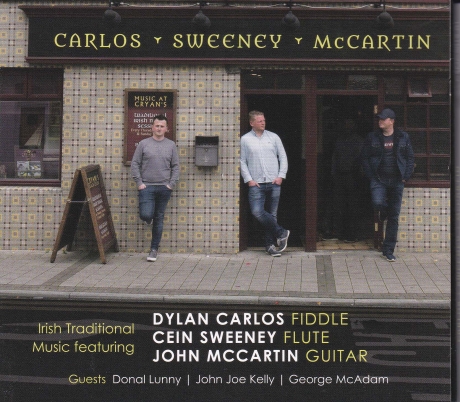 ####
CARLOS - SWEENEY - McCARTIN
Philippe Cousin
Where we return to traditional music in its purest form.
The three musicians here all come from the North West of Ireland, Dylan Carlos from Roscommon, Cein Sweeney from Cavan and John McCartin from Leitrim, who also plays guitar in the band Garadice. Roscommon is known as one of the cradles of the wooden flute. However, despite a father who was a renowned flute player, Dylan learned to play the fiddle under the guidance of Mossie Martin.
It was during a winter session in Carrick-on-Shannon that these three musicians met. And it was immediately obvious that they were musically compatible. A compatibility that very quickly turned into a complicity.
The decision to record was therefore taken very quickly and now it results in this superb album of 12 titles and no less than 36 tracks. All of them are reels or jigs, most of them traditional, or composed during the 20th century by Sean Ryan, Paddy O'Brien, Paddy Kelly, Vincent Broderick or Charlie Lennon. The Killarney Boys of Pleasure, popularised by Lúnasa, The Nightingale or Lucy Campbell's, are a favourite.
The fiddle and flute duet is at its best, delicately supported in counterpoint by the guitar. Proof of the quality of this trio is the fact that Dónal Lunny was keen to add his own touch and his bouzouki to this recording, as well as John Joe Kelly (Flook) on bodhrán and George McAdam on banjo.
This album is undoubtedly an accurate reflection of traditional music as played in the sessions in the North West of Ireland. A 44 minute album that is a joy to listen to, and one that makes you wish it was over.
Autoproduit CSMC2019-01 - www.carlossweeneymccartin.bandcamp.com