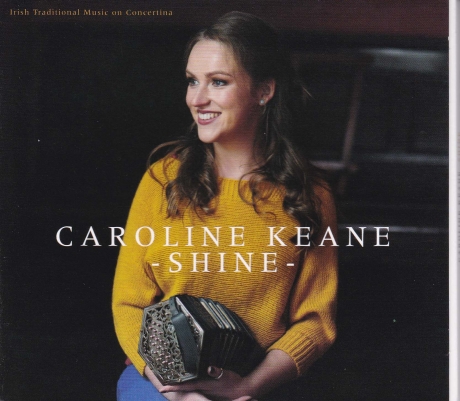 ####
CAROLINE KEANE
Shine
Philippe Cousin
Caroline Keane grew up in Limerick surrounded by the musical richness of Co. Clare and the Sliabh Luachra area.
At the age of seven she tried her hand at the tin whistle before turning a few years later to the concertina, which she studied under the guidance of a master in the field, Noel Hill. Her talent quickly exploded and by the age of 15 she was already performing on Irish and international stages. A graduate of the music department at the University of Limerick, Caroline teaches and performs with the band FourWinds and in duo with her partner Tom Delany.
She has still found time to present her repertoire on Shine, a first album that showcases a vibrant, passionate and emotional style. To do so, she has drawn from tradition of course, but she has also borrowed from contemporary composers such as Niall Vallely, Vincent Broderick, John Brady, Ciarán Tourish, Liz Carroll or Tommy Peoples.
Slides, jigs, reels, waltzes, polkas, hornpipes and barn dances follow one another at a frantic pace, just slowed down to the tune of Gerry O'Beirne When You're Gone I Say Your Name. Caroline has composed two tunes, While the Cat's Away and The Wine Strand Hornpipe.
Although the album highlights her favourite instrument, the concertina, she is nevertheless assisted in her work by a dream team of choice. Tom Delany on uilleann pipes, Laura Kerr and Jeremy Spencer on fiddle, Robbie Walsh on bodhrán, Gerry O'Beirne, Conal O'Kane and Gearóid Ó Duimín on guitar, Ryan Molly on piano and Alec Brown on cello.
In the selection and execution of the tunes, Caroline gives us a wonderful demonstration of the breadth and depth of the concertina in her skilful hands. As for the title of the album, Shine, no other would have been more appropriate, as Caroline's natural musicality and talent burst forth from the first note to the last.
Autoproduit - www.CarolineKeaneMusic.com