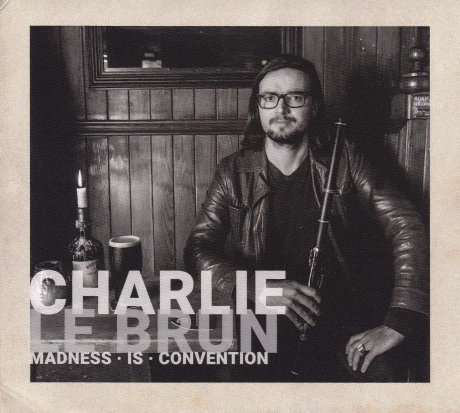 CHARLIE LE BRUN
Madness is Convention
Philippe Cousin
Born in Brittany, Charlie Le Brun studied classical music at the Conservatoire de Rennes.
As a teenager he turned to the wooden Irish flute and then invested himself in traditional Breton music, wandering the festoù-noz with the group Hent. In 2008 he went to Ireland, to Westport on the west coast and there he learned to play with the Chieftains' flutist, Matt Molloy. Now based in Dublin, he has just recorded a magnificent album Madness is Convention in Belfast, in Dónal O'Connor's studio, too short since it only has five tracks. This album reveals a young man full of talent, capable of competing with some of the masters of the wooden flute.
Five titles, therefore, with various styles, for nine tunes. Four Irish classics by Peadar O'Riada and Delia Crowley and five original compositions by Charlie himself. Among the tracks that sound very Irish, The Black Bee, Gerry the Postman, Sunny Belfast, Charlie Le Brun reminds us that he is Breton by integrating the song A Vein hag a Ludu, a gavotte suite. On this amazing album, on which no post-production modifications or additions were made, in order to preserve the authenticity and intimacy of a shared musical moment, Charlie called on a few friends: Aoife Kelly on concertina, Eamon Rooney on bodhrán and Feilimí O'Connor on guitar, three musicians who accompany him on stage.
Nevertheless, the flute remains the main instrument and dominates over each piece, remarkably enhanced by the other instruments. The sound of this beautiful warm and natural instrument is preserved by Charlie's interpretation, all in lightness and sensitivity. Let's hope that Charlie Le Brun will persevere and offer us a slightly longer album in the coming months.
Autoproduit – www.charlielebrun.com