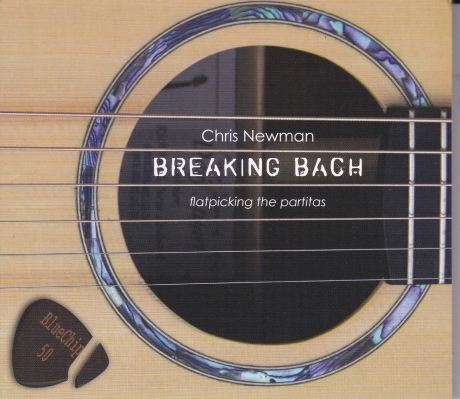 ####
CHRIS NEWMAN
Breaking Bach
Philippe Cousin
Chris Newman is a British guitarist known as one of the virtuoso flat-picking guitarists.
Together with his partner, the harpist Máire Ní Chathasaigh, they have released seven albums and now he is offering us his fourth solo album, Breaking Bach. A highly original and innovative album, concocted during the long months of the pandemic. He has rediscovered J.B. Bach and has adapted several pieces of music for the metal string guitar. Sonatas and partitas written by Bach for solo instruments: violin, cello and flute.
According to Chris, this is not a classical guitar recording, as he himself does not read music. With a background in swing, jazz, folk, bluegrass and traditional music from Ireland and Scotland, he has nevertheless chosen to tackle the repertoire of one of the classical masters, compositions from the first half of the 18th century.
Here we have excerpts from five works, Sonata for violin, Suite for cello, Partitas for flute or violin. It is not surprising then to recognise, in the course of the guitar chords, tunes that have been heard many times before, prelude, allegro, sarabande or Bourrée anglaise.
Chris begins with the Allegro from the Violin Sonata No. 3, an exciting way to start the album. On the Partita for flute in A minor, the notes fall one after the other like a waterfall, especially the opening Allemande. The music, as one would expect from such a guitar virtuoso, is light and airy and the notes fly with grace. This is a very pleasant album to listen to, with impeccable technique, which will furnish the long winter evenings by the fire.
Old Bridge Music OBMCD23 - www.oldbridgemusic.com