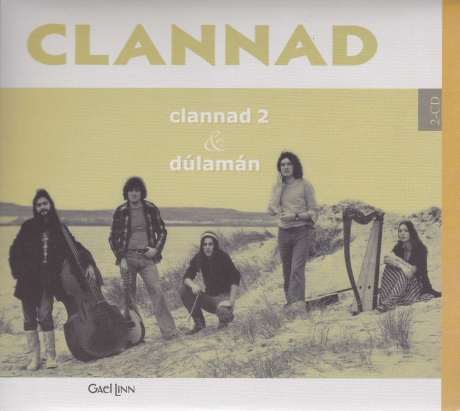 ####
CLANNAD
Clannad 2 & Dúlamán
Philippe Cousin
While Clannad is finishing a farewell tour and celebrating fifty years on stage, the Dublin-based label Gael Linn will celebrate its seventieth anniversary in 2023.
So it was a fitting occasion to combine these two anniversaries, looking back to the band's early years.
Formed in the early seventies, Clannad, for Clann as Dobhar, the family of Dobhair in the Donegal Gaeltacht. A debut album in 1972 after winning first prize in a young band competition in Letterkenny, it was soon followed by two more records, Clannad 2 in 1974 and Dúlamán in 1976. It is precisely these two albums that Gael Linn has chosen to reissue, both on CD and on vinyl.
This is an opportunity to (re)discover a major band of the Irish scene. A band that very early on adapted the traditional Irish songs of their region of origin to much more modern styles of music, adding synthesizers and percussions. This has sometimes hurt the ears of some purists, and the band has been accused of being the gravediggers of tradition. Yet fifty years later, they are still around, even if they have chosen to hang up their instruments in the near future.
We have the pleasure of hearing many of the tracks that have since become standards. Let's mention in bulk An Gabhar Bán, Dhéanainn Súgradh or Teidhir Abhaile Riú from the first album. And Dúlamán, Two Sisters, Siúil, a Rún or d'Tigeas A Damhsa on the second CD. And then a surprise with the gavotte Rince Briotánach learned from Triskell during a tour in Brittany. Twenty-two tracks that will bring back many memories for the older ones among you. Nostalgia when you hold us!
Gael Linn CEFCD 196 - www.gael-linn.ie