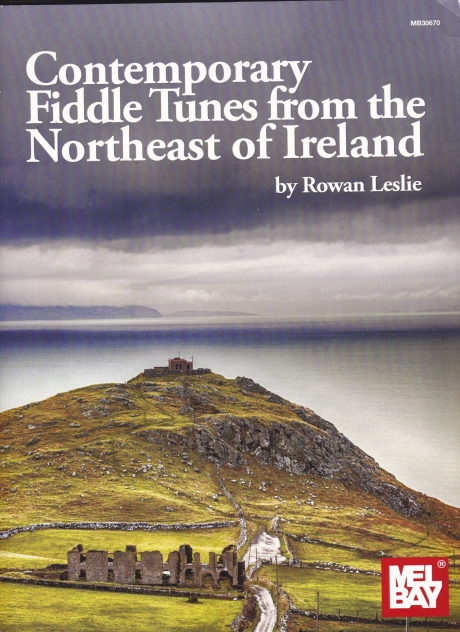 ####
Contemporary Fiddle Tunes from the Northeast of Ireland. by Rowan Leslie
by Rowan Leslie
Philippe Cousin
Born in County Antrim in Northern Ireland, Rowan Leslie started fiddle at the age of seven.
He learned the instrument with violinist and luthier Johnny Murphy. He then went on to study at the University of Newcastle and Limerick University where he graduated in traditional music.
From early childhood Rowan was steeped in Irish tradition and from the age of thirteen he began playing in festivals, travelling from Italy to Spain. He even played the role of fiddler in the film Moon Dogs.
As a very precocious child, it was at the age of thirteen that, in parallel to his concerts, he began to compose tunes and melodies for traditional dances.
Ten years ago, in 2010, Rowan Leslie released a magnificent first solo album, Itchy Fingers, followed a few years later by a four-track EP of his own compositions. His second album Escaping the Dawn is currently being recorded.
Over the years, Rowan has collected a multitude of original tunes composed by musicians from Antrim and Derry counties and arranged them for fiddle. It is precisely this immense collection that he has just published under the title "Contemporary Fiddle Tunes from the Northeast of Ireland", published by Melbay Editions.
This collection of tunes pays homage, as its name suggests, to the fiddlers of the Northeast of Ireland. For many of these pieces, this is the first time they have been published.
As with neighbouring Donegal, these counties of Ulster, by virtue of their geographical location and long shared history, have much to share with Scottish music. It is therefore not surprising to find here and there popular tunes from one or other of these neighbouring countries.
This excellent work will help the many musicians practicing traditional Irish music to discover and share the wild charm of these beautiful northern countries.
A total of sixty-four tunes, covering the broad spectrum of Irish dances: jigs, reels, polkas, hornpipes, marches, waltzes, barndances, set dances and slow airs.
For each track, two versions. The first with the bare melody and newly suggested chords and the second with details of ornamentation, articulation and bowing technique.
In addition, rich biographical notes and stories provided by the composers themselves are presented here and will help amateur musicians understand the genesis of each piece.
A very complete work that will delight all lovers of traditional Irish music. And which will perhaps give others the idea of looking at music from other parts of Green Erin.
A first-rate work by a very talented musician.
Melbay Publications - www.melbay.com - email@melbay.com