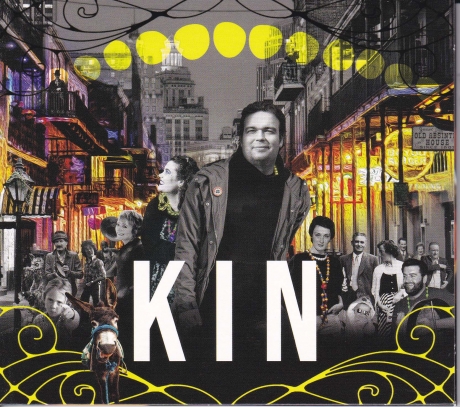 ####
DAMIEN MCGEEHAN 
Kin
Philippe Cousin
Another Donegal fiddler, you might say. Indeed I have already spoken about Damien McGeehan on several occasions.
About his first solo album The Tin Fiddle and also as a member of the Fidil trio. Damien is from Donegal and as such he carries with him the whole traditional heritage. But this time he has managed to free himself from this, as the arrangements on his second album Kin, incorporate a variety of influences, ranging from jazz to bluegrass and Senegalese music.
Kin means "family" and all the people on the cover are members of his family, past and present. Just like the different musical styles, all linked together but with different accents. And God knows that the eleven tracks are full of diverse influences.
- McGeehan moves from one to the other with equal ease. Right from the start on An Chéad Chathlán, the listener is immersed in a soundscape of blues guitar, jazzy riffs and traditional melodies. Then it jumps from a Highland traditional Dúlamán na Binne Búidhe to a New Orleans jazz-infused tune Runnin' on Bourbon. The Girl & The Lass opens with a lullaby before turning into swaying jigs. And on Errity's Jigs, Damien pays tribute to his uncle, letting his bow loose on three traditional jigs.
Damien has used a number of guests, including Seán Óg Graham on guitar, accordion and ukulele, and above all co-production. Also Kieran Munnelly on flute, Liam Bradley on percussion, John McCullough on keyboards or Eamon Murray on bodhrán. But above all, the vocal performance of Shauna Mullin, his wife, who sings three songs with a superb head voice.
Over the last ten years, D. McGeehan has imbued his playing with great depth and his fiddle has acquired a fine patina. Here he sets out on a musical journey with spectacular scenery. Curious and daring, Damien is not afraid to venture far beyond the circle of tradition and he offers us inspired music.
Autoproduit - www.damienmcgeehan.com