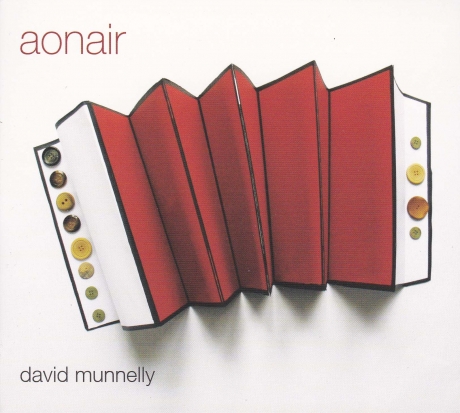 ###
DAVID MUNNELLY
Aonair
Philippe Cousin
A native of Co. Mayo, David Munnelly is an iconoclastic accordionist in the Irish music scene.
He was first influenced by the Flanagan brothers and the Irish-American musicians of the 1920s and 1930s, and has since evolved radically, experimenting with a variety of musicans and bands such as Samourai. Long driven by an innate curiosity and incredible ease, he began to push his instrument to the very limits of the Irish tradition. And the least we can say is that his new album Aonair evolves far from the beaten track of tradition.
Aonair means lonely, solitary in Irish, and that's exactly what David gives us to hear, the slightly avant-garde album, it has to be said, of a brilliant musician. It features a dozen tracks influenced by the various cultures rubbed shoulders with over the course of his career. There are elements of France - Déjà Vu, Scandinavia, Germany - Visitor, Spain - Corazon or the Netherlands with Someone, a tune on which you can hear the carillon of the cathedral of Utrecht, a city where D. Munnelly now lives. Also worthy of note is Transparent, a very original jazzy waltz.
David is a master of the devil's box and a true innovator. He puts all his soul, passion and talent into a minimalist performance at the service of a music that will undoubtedly leave no one indifferent. After that you won't be able to listen to the diatonic accordion in the same way.
Appel Rekords - www.davidmunnelly.com