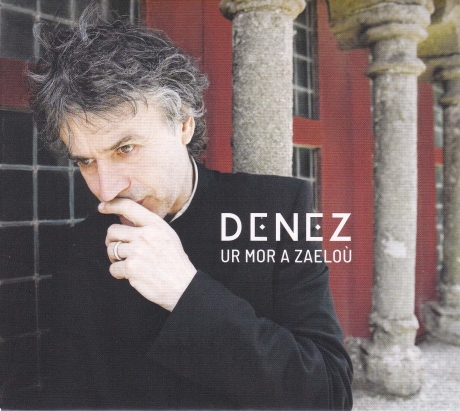 DENEZ
Ur mor a zaeloù
Philippe Cousin
Just one year after Stur an Avel, Denez Prigent presents his twelfth album Ur mor a zaeloù (A Sea of Tears), an album recorded in the church of Saint-Brandan in Lanvellec, in the heart of the Trégor region, where Denez dropped anchor some twenty years ago.
This time Denez has freed himself from electronic instruments and machines to refocus on a more traditional approach to singing in Breton. For on this superb opus he has chosen to highlight the gwerz, the Breton lament par excellence.
Ten tracks follow one another, timeless songs that sublimate the tragedies and sufferings of the human race. Songs which, throughout the ages, have always recounted tragic events such as epidemics or famines: Bosenn Eliant (The plague of Elliant), Naonegezh Kiev (The famine of Kiev), or wars with the moving Soudard ar Fur (The soldier Le Fur). But also intimate dramas or unhappy loves Marv ma mestrez (My beloved is dead), Iwan Gamus or the lonely despair E ti Eliz Iza.
Throughout the album, we find with pleasure these timeless gwerzioù, eight of which are traditional Breton songs. Only Kanañ a ran (I sing) and Naonegezh Kiev, about the great famine in Kiev in 1932, are compositions by Denez.
We recognise in passing Ar bugel koar (The wax child) interpreted by Kristen Nogues on her first album Marc'h Gouez in 1976 or Soudard ar Fur popularised by Gweltaz Ar Fur in 1973, under the title Ar soudarded 'zo gwisket e ruz.
Finally, the album ends with Deuit ganin (Come with me), an eleven-minute gwerz, performed a capella, symbolising the depth of Denez's incantatory and sacred singing.
To carry his deep voice on these superb songs, what better choice than to invite five excellent musicians who come in counterpoint to delicately magnify the ten texts here present. Mathilde Chevrel on cello, Jonathan Dour on violin and viola, Cyrille Bonneau on duduk, veuze, soprano sax and Scottish bagpipes, Jean-Baptiste Henry on bandoneon and Antoine Lahay on charango and twelve-string guitar.
And the icing on the cake, the Saint-Brieuc choir, a children's choir, performs on three tracks: Kanañ a ran, Naonegezh Kiev and E ti Eliz Iza.
The intensity of the emotions, the sensitive playing of the musicians and the unique voice of Denez, all contribute to the success of this magnificent album. Surely one of the most beautiful albums of this year.
Coop Breizh CD1206/DB12 - www.coop-breizh.fr
&n