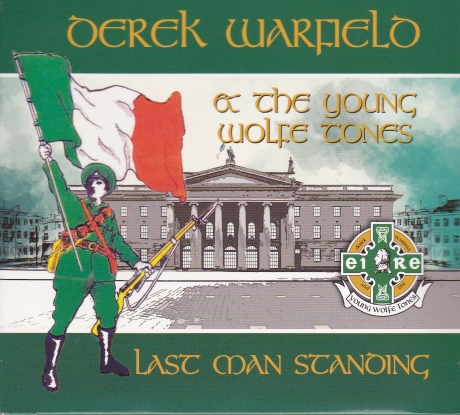 ###
DEREK WARFIELD & THE YOUNG WOLFE TONES
Last Man Standing  
Philippe Cousin
One of the most famous Irish bands for its repertoire of rebel songs is undoubtedly The Wolfe Tones.
A band that Derek Warfield left in 2001 to follow his own path with a new formation The Young Wolfe Tones.
They have just released Last Man Standing, the second part of a trilogy dedicated to the Irish revolution. This album consists of eighteen songs symbolic of the 1916 Easter Rising. An uprising which, according to Derek, would not have taken place without the financial and moral support of the Americans.
The album is dedicated to the memory of Sam Reilly (1896-1989), the last man to leave the GPO and the last volunteer in the 1916 rebellion to die. A volunteer whom Padraig Pearse had sent back to the GPO to ensure that no one was left behind.
But unlike the previous CD Call of Erin, the ballads on this album are not all about the events of 1916. There is a mixture of sometimes poignant songs, representative of those who lived through the years of oppression, before and after Easter 1916, and also of those who continued the struggle throughout the 20th century.
What could be more natural than to hear standards such as Spanish Lady, Four Green Fields, Sean South from Garryowen, Boys of Barr na Sraide, The Minstrel or Little Bridget Flynn throughout the tracks.
Some thirty musicians and singers took part in the recording of this album, which is presented in a beautiful dust jacket, accompanied by a 32-page booklet with detailed notes explaining the songs.
Derek Warfield obviously knows Irish history inside out. He has lived through some of it himself, and throughout his career has met and talked to survivors of 1916.
This is a historical album.
Warfield Music CD 006 - www.theyoungwolfetones.com