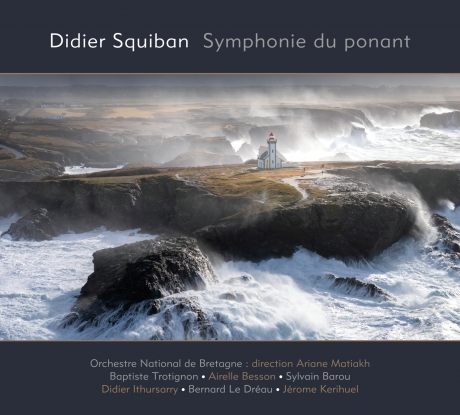 DIDIER SQUIBAN
Symphonie du Ponant
Philippe Cousin
After his two previous symphonies, Bretagne in 2000 and Iroise in 2004, Didier Squiban composed a third artwork entitled Symphonie du Ponant in 2015, a masterful tribute to the Ponant islands.
Unfortunately, this symphony was not recorded at the time and we had to wait until April 2021 for this grandiose artwork to be released. The excellent album that will be released this autumn. An album built from fifteen themes, like the fifteen islands of the Ponant and in seven movements, like the seven islands of the Côtes d'Armor. For this Didier called on the National Orchestra of Brittany, of which he has been a fellow traveller for over twenty years. Under the conduction of Ariane Matiakh, the fifty musicians of the orchestra perform D. Squiban's new symphony, thus completing his symphonic trilogy.
In the meantime, Didier's health has taken its toll on him and it is the pianist Baptiste Trotignon who officiates here, one of the best interpreters of his generation. At his side, Arielle Besson on trumpet, an internationally renowned figure on the European jazz scene. And then some other celebrities of the Breton scene, first and foremost Sylvain Barou on uilleann pipes, duduk and flute, Bernard Le Dréau on saxophone, Jérôme Kerihuel on percussion and Didier Ithursarry on accordion.
Finally, a strong support to Didier, Geoffroy Tamisier who co-wrote several of the pieces of this symphony and coordinated the orchestration.
We start in Baradoz with a nod to three Bretons, the poets Per-Jakez Helias and Xavier Grall, to whom Didier associated Loeiz Guillamot who had written the text Evid Didier S. We continue with melodies mixing jazz, traditional and a few asymmetrical measures. Gavottes, an dro and laridés follow one another. And Elez ar Baradoz, a Léonard canticle that he played as a child in the church of Ploudalmézeau.
A discreet but vibrant tribute to Armel, his son, who left too soon to join the Tir Na Nóg. Pure emotion.
This symphony ends with a salute to the great bard Glenmor, whose revolutionary song Kan Bale an ARB inspired Didier.
Didier Squiban's musical work has always been the meeting of several worlds, traditional Breton music, jazz improvisation and also classical music in which he began. This twenty-sixth album is so beautiful it will bring tears to your eyes. A must-have.
Coop Breizh CD1185/DB10 - www.coop-breizh.fr