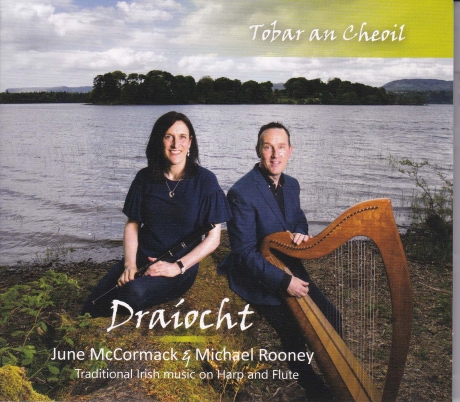 ####
DRAÍOCHT
June McCormack & Michael Rooney - Tobar an Cheoil
Philippe Cousin
A first album in 2004. A second one in 2006. Then nothing more until today.
The Draoícht (pronounced Drioc'ht) duo of June McCormack and Michael Rooney has not been idle for all these years. The harpist M. Rooney is a prolific composer and is considered one of Ireland's finest harpists. He was awarded the TG4 Composer of the Year award in 2017. He has worked on numerous projects including seventeen musical suites. Flutist J. McCormack was named Young Musician of the Year 1998. As a teacher she has published two methods of learning the flute.
They are finally back on the recording front with a third album Tobar an Cheoil (the source of the music). An album of 14 tracks, a mixture of traditional tunes and twelve original compositions by Michael. Jigs and reels follow one another as well as newly composed hornpipes and hop-jigs. Here the music of the harp and flute is celestial and in the capable hands of these two virtuosos, we are treated to a subtle and sensitive, almost intuitive interpretation of various tunes. June's flute style is fluid and rhythmic and serves the melodies performed by her companion. As for Michael's compositions, they reveal a breadth and depth that travels beyond tradition.
Accompanied by Jack Warnock and Seamie O'Dowd on guitar, Maria Ryan and Lucia MacPartlin on violin and Aoife Burke on cello, this delicate album shines with the richness of its tunes. Although seemingly simple, June and Michael's music conveys a fantastic variety of nuances. The shared brilliance of these two talented musicians brings the original compositions to life. An absolute success.
Autoproduit DOORLA006 - https://www.draiochtmusic.com