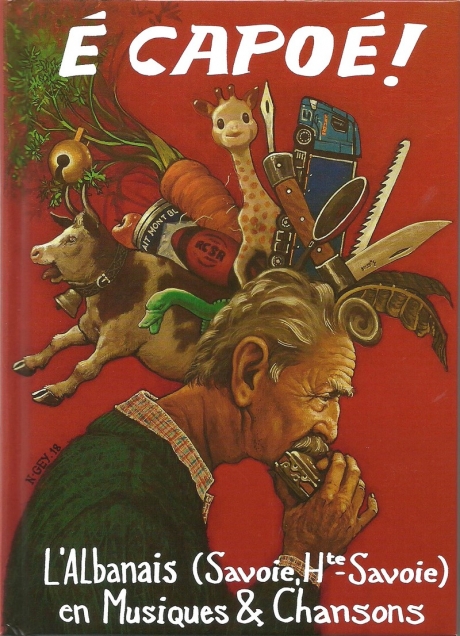 É Capoé !
L'Albanais (Savoie, Haute Savoie) en musiques et chansons
François Saddi
Directed by Guillaume Veillet, with Alain Basso, this 6th volume of the Heritage collection consists of a book of 124 pages and 2 copious CDs (33 and 39 beaches) dedicated to l'Albanais, a small hilly area at the foot of the Alps between "Lac d'Annecy et du Bourget".
After a general introduction presenting its economy, l'Albanais region of Albens, (one of the 3 cantons of the region) and its language, the Franco-Provençal, the book very carefully details the sources of the 72 recordings, various collections. alternating traditional songs, songs by local authors, testimonies, various soundscapes, rhymes and other ceremonial music. It should be noted that most of the traditional songs presented here are referenced in the catalog Laforte and / or in the directory Coirault. These are often Savoyard versions of songs known elsewhere. However, they generally differ in the style of their interpretation as well as in the language used.
For the 1st CD, "l' Albanais chante et danse ", it is the songs of oral traditions which are in the spotlight. Whether mono or polyphonic, they are from recordings from the second half of the 20th century until 2018, and supplemented with multiple testimonies of various people including singers and singers themselves.
The second CD, " L'Albanais au rythme de la vie et des saisons ", consists of about forty recordings presenting various moments punctuating the life of the inhabitants of the region of Mardi Gras at Christmas, completed by the ceremonies and traditions around marriage, those around funerals ... as well as nursery rhymes. We will find in this second disc number of songs known in their "Albanaise" version, whether in French or Franco-Provençal.
For example, some musicians and singers present in this beautiful book: Gérard Brunier, Anna "Nanette" Rosset, Nicolas Gey, Bernard and Alice Juillet, Jeanne Bogey, Pierre Granger, Auguste and Roger Emonet, Paul Carrier ... and the chorale des patoisants de l'Albanais.
This opus follows 5 others, all devoted to Savoy, as for example " Kroka la nuit, chansons traditionnelles de Savoie " realized 4 years earlier by the same authors, the penultimate date, " Bessans qui chante " ( cf Chronicle Trad'mag 172) or the last one made for the 40th anniversary of La Kinkerne in 2017. It seems to me to be a fascinating document quite exceptional for all those who are interested in a general way in the traditions of our countries of France; and absolutely unavoidable for those who wish to better understand and know the life of the inhabitants of this small Savoyard terroir!
Editions Terres d'empreintes