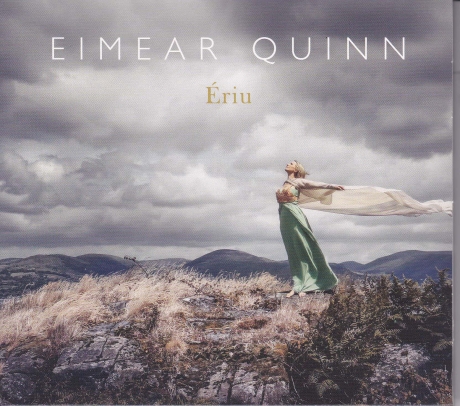 ####
EIMEAR QUINN
Ériu
Philippe Cousin
Her name may not ring a bell. But Eimear Quinn had her moment of glory when she won Eurovision in 1996 with the song The Voice, written by composer Brendan Graham.
Eimear began studying singing at the age of 15 at the College of Music in Dublin. In 1995 she joined the Anúna Choir, where she was one of the soloists and with whom she recorded two albums. Following her victory, she began writing her own songs and embarked on a series of international tours, from London to Sydney, from Brussels to America and South Africa. In 2001 she co-wrote her first solo album Through the Lens of a Tear, which was followed by three others. After that she put her career on hold to raise her children.
Eimear Quinn is one of those ethereal voices that Ireland is famous for. She explores a range from the traditional to the classical to the sacred. She returns in 2021 with the beautiful collection of songs named Ériu, after Ireland's eponymous mother goddess. Eimear feels a deep spiritual connection to her homeland and here she celebrates not only the women of Irish history, but also the rich culture of her country. Although a cover of The Voice concludes this album, that's not all it has to offer. The orchestration is as lush and rich as the original, counterpointed by Eimear's angelic, chill-inducing voice.
Ten tracks follow one another, some in English, some in Irish and some in Latin, written by Brendan Graham - The Watchman, Butterfly or Crucán na bPáiste. But also by Patrick Cassidy - Love Endless, Sarah Class - Hibernia or Eimear herself - Jasmine Flower or In Paradisium. Of note is the magnificent traditional An Raibh tú ar an gCarraig set to music by E. Quinn. The album, which took three years to complete, is a real gem of sensitivity on which Eimear's superb voice is magnified. A collection of songs that she says come from her heart. A true success.
Autoproduit PEACH005CD - www.eimearquinn.com