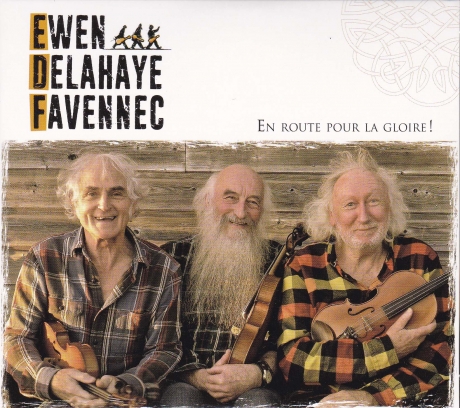 EWEN - DELAHAYE - FAVENNEC
En Route Pour La Gloire !
Philippe Cousin
Here they are again the three joyful drills of the Breton scene, the goods named Trio EDF for Patrick Ewen, Gérard Delahaye and Melaine Favennec.
After a first "Tri-logy", a few years ago they started a second trilogy with Route 66 and then Route 29, and today they offer us the last part of this trilogy of the road, En Route Pour La Gloire! There are thirteen joyful and poetic ballads, it depends on the mood of the moment and everyone.
As usual, Melaine and Gérard are the ones who work on it in equal parts to compose cheerful and sensitive music and carve out a few pearls on the lyrics that make up their sixth album. Patrick, for his part, has brought a traditional Irish song The Blarney Stone on which Annie Ebrel's voice is speaking for once and in an unexpected way in English. As on previous albums, the three languages of French, Breton and English accompany our three adventurers on the road.
And then they also invited the vocal and female quartet Barba Loutig, which brings youth and freshness. It is also the double bassist Cédrick Alexandre who accompanies them on several tracks and the Ploun Fiddle Band and its forty violins which occupies the field on the traditional Irish song and on La mer qui donne. Their repertoire is marked as usual by the Breton and Celtic spirit through Scottish and Irish melodies and epic tales often tinged with humour.
We walk from the Jardin d'amour to the Val de Vilaine via the Vieux Pommier or Troadic Kamm road. More original is the Breton version of a song by Eric Clapton Daeloù Er Baradoz. This is still the wisdom of La Civilisation and Trop c'est trop. And to finish the truculent story of Stéphane Grappfleury, who has been active for many years in Pleyber-Christ (Brittany). En Route Pour La Gloire! beyond the ironic character of the title, will probably not bring fame to this friendly trio since they have already acquired this notoriety since they have been travelling the roads of Brittany for fifty years.
Don't spoil your pleasure and pay yourself a new slice of good humour with an already mythical trio.
Dylie DY319 - Distribution Coop Breizh - dylie@wanadoo.fr