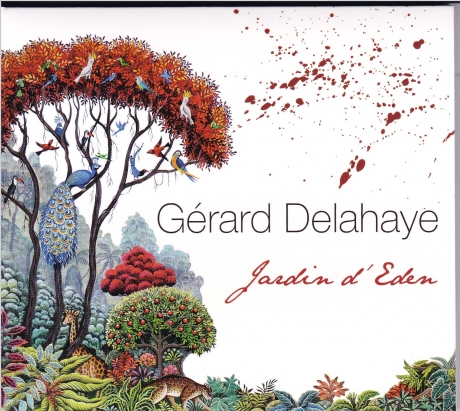 GÉRARD DELAHAYE
Jardin d'Éden
Philippe Cousin
He is best known for his children's albums (12 to date) and the ever successful Trio EDF (6 albums to date).
But Gérard Delahaye has other strings to his bow, or should I say his guitar. He has a repertoire "for adults". If he produced several records in the 70's and 80's, he then devoted his career more to the little ones, gratifying us here and there with a few gems like La mer au coeur in 1991 or La Ballade du Nord Ouest in 1997.
Closer to us, Guillou for friends in 2001 and Rue Poullic al Lor in 2012. Then silence until today. Next February, the magnificent Jardin d'Éden will be released. A dozen timeless songs, collected over the years and through his encounters.
A very beautiful album with tender pastel and naive colours, a bit like the picture on the cover, all shades. However, the naivety is perhaps limited to the album's visuals, because the twelve songs are all full of meaning. Nature, love, melancholy, indignation follow one another through the lyrics of a poet sometimes too modest to claim the title.
Of course, Brittany is also present in the course of one song or another, even if it is not obvious, as on Galaxie libellule, Au Menez-Hom or Fest noz. As the humanist that he is, Gérard does not miss the opportunity to salute Africa and its misfortunes on La guitare de Gao or migrants on D'abondance et de liberté.
G. Delahaye has called on a host of talents to produce this very fine work, including his lifelong friends Patrick Ewen and Yvon Le Men to answer him on Shakespeare n'est pas mort. And then there are Dan Ar Braz, Patrick Boileau, Dominique Molard, Paul Leclerc on the uilleann pipes and Barri Boubacar Souleimane on the calabash.
The atmospheres range from Brittany to Mali, via the Jardin d'Éden of course. A magnificent album that only confirms the talent of this songwriter and poet of the everyday.
Dylie 3212 - www.coop-breizh.fr