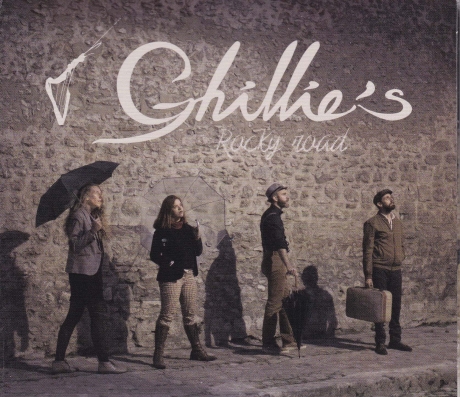 ###
GHILLIE'S
Rocky Road
Philippe Cousin
In Ireland, Ghillie's are fishing guides. But they are also and above all little Irish dancing slippers. And it is indeed dancing and as a corollary Irish music that we are talking about here.
For ten years now, the Ghillie's have been touring the stages and floors of Touraine, with four essential instruments for playing traditional music. Marine Bouzat on flutes, Yohna Lalanne on fiddle and vocals, Philippe Carillo on harps and Éric Duverger on percussion. Four musicians, two women and two men, at the service of a lively, energetic and communicative music, a subtle mix of Irish and Scottish music with some jazz sounds from time to time. After three EPs and an album Premier Bal, the band is back this time with Rocky Road, twelve original tracks, an invitation to dance, five songs and seven instrumentals, traditional or self-composed pieces.
The album opens with the bouncy rhythm of the flute for the traditional song The Rocky Road to Dublin, a classic of the genre, and I'm a Rover, a Scottish ballad popularised in Ireland by the Dubliners in the 1960s. It's also Skibbereen, a song that refers to the famine and evictions by the landlords. And then, more catchy, jigs, Out of the Ocean, Father's Kelly, and reels, The Sligo Reel or MacArthur Road that will inevitably make your feet tingle. Since 2012, the four little slippers of Ghillie's have been twirling and beating the beat to the delight of their audience. Their enthusiastic and energetic music is like a gust of wind carrying the music of Ireland to Touraine. What's the Craic?
Autoproduit GHILLIES2020/1 - www.ghillies.net