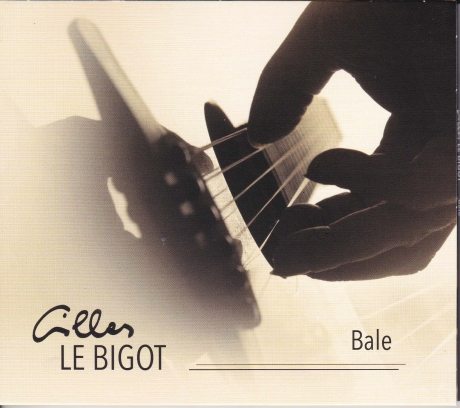 GILLES LE BIGOT
Bale
Philippe Cousin
For nearly 40 years, Gilles Le Bigot has been touring Brittany and the world with his guitar slung over his shoulder.
With his instrument, he has taken part in a host of musical adventures within groups - Galorn, Kornog, Barzaz, Skolvan - or collectives such as Héritage des Celtes alongside Dan Ar Braz or Autour de la guitare celtique with Jean-Félix Lalanne, Soïg Siberil and Gildas Arzel. He has also played with the greatest artists of the Celtic scene: Gerry O'Connor and Lá Lugh, Dónal Lunny, Karen Matheson, Carlos Núñez...
With a style recognizable by all, based on the open chord (DADGAD), he recorded two albums under his own name, Empreintes in 2002 and Empreintes #2 in 2011. But there again he was surrounded by a host of talented musicians.
This time he returns as a solo artist, offering us Bale, a superb musical ballad. On this first entirely solo album in his forty-year career, he has pulled out all the stops for a stroll through Brittany in 17 tracks and soundscapes. An absolutely magnificent album consisting of some twenty dance tunes in six suites, as well as three ballads, a march and a waltz.
One will recognize here plinns, laridés, hanter-dro, gavottes, kas a barh and rond de St-Vincent. Along the tracks, we cross several corners of Brittany, from Douarnenez, his refuge, to Bulat-Pestivien in the heart of the Plinn country, passing by the Bas Léon, Pontivy, the Dardoup country or the Vannetais.
An album on which one perceives various musical atmospheres characteristic of Brittany, from Armor to Argoat. And it is also the meeting of singers such as Marcel Guilloux for the plinn, Jean-Pierre Quéré for the gavotte and Gigi Bourdin for the rond de St-Vincent.
From time to time, we can recognize tunes already present on previous recordings: Le Rosmeur on Empreintes #2, Plinn Foar Bulad, Chas'Du, Kastell Nevez or Kasandro with Skolvan.
Gilles Le Bigot is a talented guitarist. But he is more than that. He is a guitar player, an instrument that distils little musical treasures that you want to keep well hidden in your heart or on the contrary to share with others.
Gilles is an artist who weaves a most charming musical lace. From the first to the last note, a real success.
Autoproduit - www.gilleslebigot.com