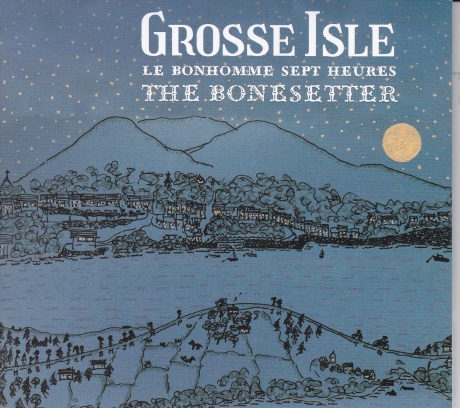 GROSSE ISLE
Le Bonhomme Sept Heures
Philippe Cousin
These three musicians had already teamed up in 2016 and released two albums, Un Canadien Errant and then Portraits in 2018.
Quebec's Sophie Lavoie (fiddle, piano and vocals), Ireland's Fiachra O'Regan (uilleann pipes, whistle and banjo) and Quebec's André Marchand (guitar, vocals and feet).
This "magical" collaboration continued and led them to adopt the name of Grosse Isle, a name that refers to the massive arrival in 1847 of Irish people fleeing the Great Famine in Quebec. The immigrants who survived the unsanitary conditions and malnutrition were quarantined on Grosse Isle, an island lost in the middle of the St. Laurent River. This was a landmark encounter between two peoples and two cultures.
A fusion of traditional Irish and Quebec repertoires with some of Sophie's own compositions, Grosse Isle shines with the richness and originality of their music. Their new album Le Bonhomme Sept Heures or The Bonesetter was chosen for the analogy between the two expressions. The Bonesetter, according to Quebec legend, was once the one who picked up children not yet in bed after seven o'clock.
Instrumentals from both cultures, sometimes rhythmic, sometimes melancholic, are mixed with songs that are sometimes very ironic, such as Je veux m'y marier, or sadder, such as Á Grosse Isle, which evokes the sinking of an Irish ship on the Gaspé coast.
If Quebec is well present with songs in French, Ireland is not far behind with many instrumentals: jigs and reels. The album starts with Le Bonhomme et la bonne femme, a song by the famous Bolduc, a proud Irish-Quebecer of the 19th century. Note that some songs come from the archives compiled by Marius Barbeau in the first half of the 20th century - Sur le bord du rivage, Je veux m'y marier - songs with a strong Acadian flavour.
A trio whose talent is no longer in question and which, we can hope, still has a bright future ahead of it.
Compagnie du Nord CIE006 - www.grosse-isle.com