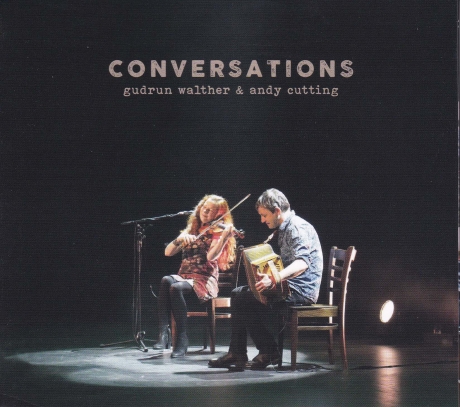 ####
GUDRUN WALTHER & ANDY CUTTING
Conversations
Philippe Cousin
Let's turn our attention to Germany, where Celtic music is as popular as ever.
This time we're talking about a duo formed by Gudrun Walther, a German fiddler, and Andy Cutting, an English accordionist. Gudrun Walther is one of Germany's best-known folk musicians, and I've already introduced her to you with her group Cara. But she also founded the band Deitsch and a duo with her Cara partner Jürgen Treyz. She tours all over Europe and the United States.
Andy Cutting is one of the most distinctive accordionists on the British folk scene. His playing is sensitive and his compositions have become essential in Britain and Europe. Since the 90s he has played with the group Blowzabella, and tours with his trio Leveret and the Anglo-French group Topette. His style is unmistakeable and has influenced a number of European accordionists.
Gudrun and Andy have known each other since 1995, when they played together in a memorable session. Then, from time to time, they performed together. Until December 2018, when the duo took shape.
With the pandemic delaying their first tour, they hit the road in 2022. This is the repertoire they offer us on Conversations. An album recorded in four days last June.
Gudrun and Andy take their listeners on a journey with traditional tunes and songs from their respective countries, but also from Ireland and Norway, to which they add a few of their own compositions.
Their two instruments merge into a common sound image that covers all the facets of folk music, from the gentlest to the liveliest. Last but not least, Gudrun's clear vocals in both German and English.
An album of spontaneity and joie de vivre.
Artes Records ARCD 6040 – www.artes-konzertbuero.de