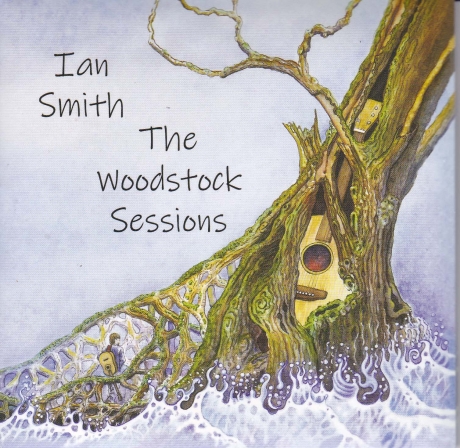 ####
IAN SMITH
The Woodstock Sessions
Philippe Cousin
Originally from Scotland, Ian Smith moved to Donegal, Ireland, thirty-five years ago. A region where he has been particularly active in promoting traditional music.
Over the years, he has recorded five albums, some of them very much influenced by traditional music, Celtic folk with a touch of the traditional, as he himself said during a meeting a few years ago, and others more personal, exploring the different types of music that Ian claims to be influenced by, such as blue grass or pop music.
It is precisely with a very personal album that he comes back to us this year, The Woodstock Sessions, an album for which he wrote and composed a lot, sometimes alone, sometimes with the help of other writers and musicians: Conor Bowman, Colin Matheson, Jim Murray, J. Gallagher...
The album originated during a visit to his musician friend Rob Stein in Woodstock. After sessioning and recording a few songs as a duo, R. Stein sent Ian several songs recorded with great Woodstock musicians such as Kyle Esposito, Eric Parker, Conor Kennedy, Sean Dorrian, Gail Ann Dorsey, David Bowie's bass player... From that moment on, the idea of an album germinated in Ian's head because he had some demos recorded with Donegal musicians: Manus Lunny, Stephen Campbell or Ted Ponsonby. And the result of all this, thanks to the incredible meeting of American, Irish and Scottish musicians, is a very original album, recorded both in Woodstock and in Donegal.
Twelve tracks follow one another with happiness. Ian's lyrics reveal, as always, treasures of sensitivity and a sharp and lucid look at everything around him: People are People, Sincere, Feel Good Day or Arabica Blues. We find two tracks already present on his first album Restless Heart (2002): James and Last Call, in a renewed musical packaging, the latter track also appearing on his 2019 album, as well as Missing Trains, a song by C. Bowman. In all, almost fifty minutes of songs skilfully distilled by a very talented folk singer who does not always get the recognition he deserves.
Autoproduit IS CD 0005 - www.iansmithmusic.net