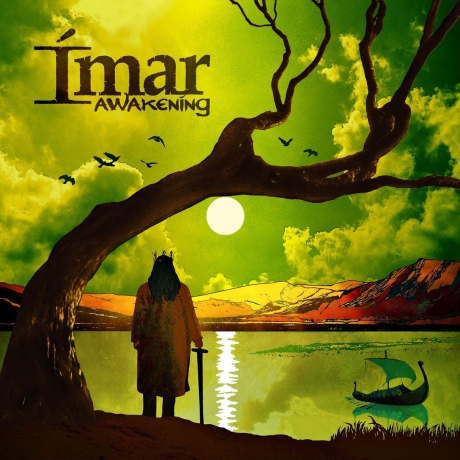 ÍMAR
Awakening
Philippe Cousin
Ímar have been touring the world for seven years now. Mohsen Amini (concertina) and his bandmates Tomás Callister (fiddle), Adam Rhodes (bouzouki), Ryan Murphy (flutes and uilleann pipes) and Adam Brown (bodhrán, guitar) have achieved rapid success in the world of Celtic music.
Based in Glasgow, the band's members have known each other since they were teenagers, having met through the traditional Irish music network Comhaltas Ceoltóirí Éireann, which organises the famous Fleadh Cheoil competition (1). These musicians play in a host of other groups, including Talisk, Mànran, Rura, Barrule, Cara and Mabon.
They come from different parts of the vast Celtic world, including a Scots-Iranian, an Irishman, two men from the Isle of Man and an Englishman based in Scotland. This dynamic band ticks all the boxes, bringing together a skilful blend of influences from Scotland, Ireland and the Isle of Man, with breathtaking energy and precision. A band with intense dynamism and chemistry, whose worldwide success is no longer in doubt.
After two albums in 2017 and 2018, they have finally released their third album Awakening, a "wake-up call" after five years that has not gone unnoticed. In the meantime, they have won several awards, including the BBC Radio 2 Horizon Award for Best Emerging Band. At the same time, concertinist Mohsen Amini was named Musician of the Year 2018. And as if that wasn't enough to keep them happy, they also racked up nine All-Ireland titles, eight All-Britain titles, as well as various other awards. That's a lot!
On their first two albums, they had started composing several of their tracks. With this one, they've increased the number of original tunes even further, writing 19 of the album's 24 tunes, the rest being traditional Irish and Manx.
The superb album cover, by Breton illustrator Bruno Cavellec, depicts the Viking chieftain Ímar who ruled Ireland and Scotland in the 9th century, after whom the band is named, and whose descendants ruled the Irish Sea for several centuries.
As usual, the quintet are bursting with energy, and right from the start of the album a frenzied guitar, backed by an exalted bodhrán, quickly joined by a frenetic fiddle, open the hostilities with a Bangers set that lasts no less than five minutes. Throughout this opus, the pace is infernal and the tempo barely slows down from time to time, as on Waterhorse, composed by T. Callister, or Imagine A World, which adopts a more swaying rhythm that gives the musicians time to breathe, with the fiddle paving the way for palpable emotion.
But the band's trademark musical power is soon back in evidence on most of the tracks, from Splinter O'Neill and The Stinger, which kicks off with the traditional Irish tune Paddy Kelly's, to the reel set Neachtain's Wing, which opens with the almost frighteningly fast standard Maids of Michelstown, Legal Tønder, the site of a famous festival where the band used to perform, or the final track Tree of Life, true to the band's style, another extravaganza where all five musicians are on deck, sailing at top speed through this exhilarating opus from start to finish.
Awakening shows once again that Ímar are back with a vengeance, offering us music that is even more imaginative and adventurous than on their two previous albums. There's no doubt that Ímar play their music with a passion and frenzy that's a marvel to behold.
And anyone who listens to this excellent album will surely come away breathless, not to say dishevelled. A breathtaking, impetuous album.
Big Mann Records BMANN005 – www.imarband.com
(1) The Fleadh Cheoil (music festival) is an Irish music competition that takes place in several stages. First there are regional selections, leading up to the All-Ireland Fleadh, which takes place in a different town every summer.