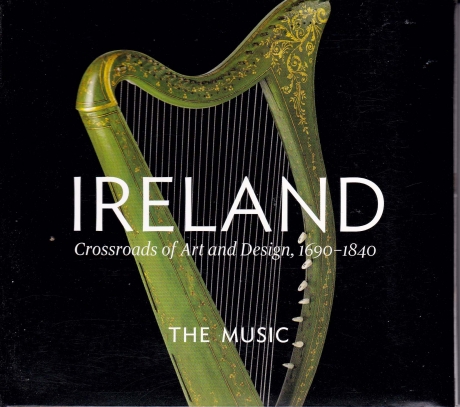 ####
IRELAND
Crossroads of Arts and Design, 1690 - 1840 - The Music
Philippe Cousin
As we know, Irish emigration to the United States was massive in the 19th century, particularly due to the Great Famine that occurred in Ireland from 1845 to 1851. As emigrants carried many objects in their luggage, they were scattered throughout North America.
In 2015, on St. Patrick's Day, an exhibition of Irish art entitled Crossroads of Art and Design, 1690-1840, was held in Chicago, which has one of the largest Irish communities in the United States. Symbolic dates since in 1690 the infamous Battle of the Boyne took place, the starting point of the orange myth. And 1840 marked the beginning of the Great Famine, which claimed about a million victims.
Paintings, furniture, jewellery, musical instruments were on display, including the magnificent Irish harp that adorns the album cover.
To musically illustrate this exhibition, Chicago violinist Liz Carroll and violinist Liz Knowles were asked to contribute to the project. Liz Carroll composed seven of the fifteen tracks on the album, while Liz Knowles was in charge of collecting the other arias, assisted by pianist Marty Fahey.
Associated with these three musicians are Catriona McKay on harp, Tríona Ní Dhomhnaill on keyboards, Kieran O'Hare on flutes and uilleann pipes and other guests: Jackie Moran, Trevor Hutchinson, Emer Mayock, Mick O'Brien and Aoife Ní Bhriain.
To all lords, all honor, it is major works by the blind harpist T. O'Carolan that begin and conclude the album. Many of the tunes of the time, such as marches, complaints and a minuet, are close by, with some of Liz's more exuberant compositions: jigs, reels, hornpipes.
All presented in a superb digipack illustrated with reproductions of some of the works, accompanied by a very complete twenty-four page booklet.
Beautiful work.
Autoproduit - www.irelandecrossroads.com