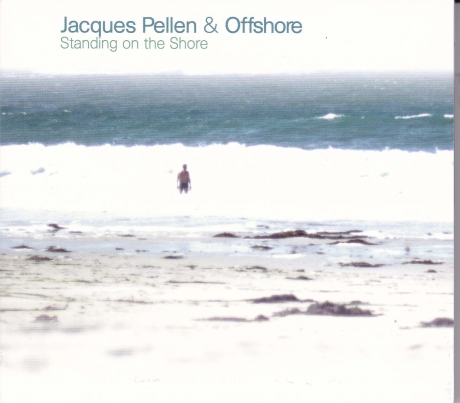 JACQUES PELLEN & OFFSHORE
Standing on the Shore
Philippe Cousin
Almost everything has been said about Jacques Pellen, the talented jazz guitarist with a Celtic flavour who left us last April.
Over the years, he led multiple projects from the Celtic Procession with variable geometry to Triptyque with the Molard brothers, to the trio with Paolo Fresu and Erik Marchand or P.S.G. alongside Soïg Sibéril and Jean-Charles Guichen.
In January 2011 he formed a new trio with bassist Étienne Callac and drummer Karim Ziad and released the album Offshore, a fusion inspired by tradition and jazz, mixing Celtic music and North African rhythms. A trio that becomes a quartet in 2017 with the arrival of flutist Sylvain Barou and the release of a second album Shorewards.
The group Offshore recorded a third opus between 2016 and 2020, which Jacques will unfortunately not have time to see the light of day. A record that is now being released posthumously, Standing on the Shore, a sort of musical testament to one of the most brilliant guitarists in Brittany. A very beautiful album on which jazz competes with the Breton tradition and improvisations so dear to Jacques Pellen.
He finds here his usual companions, Sylvain, Étienne and Karim, but also the pianist Patrick Péron, who also officiates at the sound recording and Dan Ar Braz who does him the honour of putting his electric touch on the traditional Lark goes to the Borders.
If Jacques, Karim and Sylvain participated in the composition of the tunes, there is another "grande dame" of Breton music who is present through the piece Seamen's Lament, I mean the harpist Kristen Noguès, also Jacques Pellen's partner who disappeared in 2007. On the seven long tracks of the album, the sea is present everywhere, whether on Standing on the Shore, La Saison des Tempêtes or La Danse des Macareux, composed by Dan Ar Braz, and we can perceive a filigree swell mixing sometimes lightness, sometimes depth, reflecting the sounds of waking dreams.
A superb album that invites you to travel to an unknown elsewhere.
Paker Prod PROD 031 - www.pakerprod.bzh