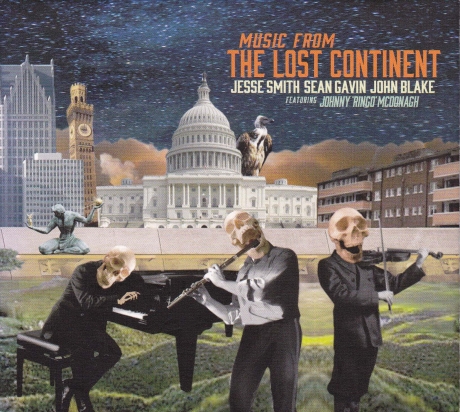 ####
JESSE SMITH SEAN GAVIN JOHN BLAKE
Music from the Lost Continent
Philippe Cousin
These three musicians have been used to meeting for about fifteen years to play together on the occasion of concerts or on each other's albums. And I've already told you about them several times.
The first of them is Jesse Smith, a native of Baltimore in the United States but who has lived in Galway for nearly twenty years, and who was once a part of Danú. A traditional fiddler, he was strongly influenced by masters James Morrison and Michael Coleman, Irish-American fiddlers of the 1920s and 1930s. Equipped with a light and nervous bow, he is not without thinking of Frankie Gavin, another of his masters.
Sean Gavin is also a native of the United States, Detroit, with family origins in Co. Clare, although he currently lives in Chicago. He is a brilliant flutist and piper who was a member of the bands Bua and NicGaviskey. Finally, John Blake, from the London Irish community, was influenced by a flutist grandfather. He himself excels on flute, guitar and piano, to which he devotes himself on this album. Back in Ireland twenty years ago, his name has often been associated with the best of Irish musicians: Paddy Glackin, Liam O'Flynn, the Kane Sisters or Téada.
Between the three of them, they have just produced an excellent opus Music from the Lost Continent, featuring the services of Dé Dannan's bodhrán, Johnny McDonagh. Here there is no modernity or modern arrangements; it is tradition in its purest form that we are dealing with. Reels, jigs, polkas and hornpipes follow one another on the album's thirteen tracks and twenty-seven tracks.
A few well-known tunes dot the disc: Anderson's, Padraig O'Keefe's, Tralee Gaol and The Battle of Aughrim, two polkas from Clare or The Lark in the Morning from Willie Clancy.
An excellent album whose dubious taste of the cover is to be regretted.
Autoproduit – musicfromthelostcontinent@gmail.com