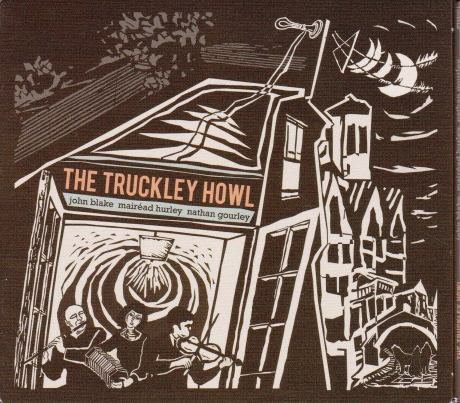 ####
JOHN BLAKE MAIRÉAD HURLEY NATHAN GOURLEY
The Truckley Howl
Philippe Cousin
Another band of Irish and American musicians performing traditional music, The Truckley Howl.
An enigmatic name that comes from a piece of advice given many years ago by Séamus Ennis: There is a lot to say about this music... because first you have to learn it, take it in hand and then you have to learn the Truckley Howl.
Three musicians working together. Mairéad Hurley from Co. Sligo, born into a family of musicians. It obviously helps to start learning at the age of four. John Blake, an Irishman from London, returned to Dublin in 1998, who played with the group Téada and is best known as an outstanding accompanist for dozens of musicians including John Carty, Paddy Glackin, Liam O'Flynn and the Kane Sisters. He plays guitar, flute and piano.
And finally the Irish-American Nathan Gourley at the fiddle. Former member of Chulrua and the Doon Céilí Band he started at the tender age of five. Originally from Minnesota but now living in Boston, he has made two albums. Here they revisit the traditional Irish repertoire, tunes they have picked up left and right in Breandán Breatnach's repertoire for example: The Spike Island Lasses or The Wishing Postman. Or in the real mine of tunes found in the various publications of Francis O'Neill, Chicago's chief of police at the beginning of the 20th century who devoted his life to playing and collecting hundreds of tunes: McFadden's Own, The Mountain Top.
There is also The Flax in Bloom by the famous violinist of the 1920s, James Morrison. And again The Clare Shout by accordionist Bobby Gardiner. Thirty-one tunes, divided into fourteen titles. Jigs, reels, hornpipes, polka or waltz as usual.
A mix of regional and stylistic influences that offers us a delightful cocktail showcasing the talent of these three traditional virtuosos.
Autoproduit TTH001 – www.thetruckleyhowl.com