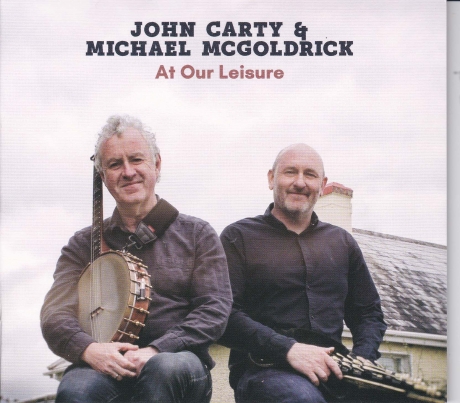 ####
JOHN CARTY & MICHAEL McGOLDRICK
At Our Leisure
Philippe Cousin
By coincidence of album releases, it is a second banjo CD that I am presenting here, that of two virtuosos in their field: banjoist John Carty and flutist and piper Michael McGoldrick.
For those of you who don't know them, John Carty is one of the greatest banjo and fiddle players in Irish music. He has released over a dozen albums, both solo and with his son James, daughter Maggie, flutist Matt Molloy, fiddler Brian Rooney and the band At The Racket.
Michael McGoldrick, although younger, is no match for J. Carty in terms of talent. He co-founded Toss The Feathers, Flook and Lúnasa, tours with Capercaillie, Usher's Island and also has his own band with fiddler Dezi Donnelly.
They first met during a visit to London by Irish President Michael D.Higgins in 2014 and immediately the chemistry was there. A few years later, they brought their collaboration to fruition on a magnificent album: At Our Leisure. An album that took them eight years to record. An understandable delay, as they were so involved in so many bands and projects.
Although between them they play a dozen instruments, they have chosen to concentrate on the tenor banjo and the uilleann pipes, even though they play their other instruments more discreetly. And as if their respective talents were not enough, they have invited Mike McCague and Jonas Fromseier on bouzouki and Matt Griffin on guitar.
The banjo/uilleann pipes combination has worked in the past with W. Clancy and J. Ward, the Keenans and the Fureys. Although this combination has a somewhat raucous quality, the two artists bring out subtleties that make for very pleasant listening.
There is a plethora of tunes here; about thirty for 17 tracks. A majority of traditional tunes of course, but also more recent compositions by Matt Molloy, Eamonn Flynn, Damien Connolly and John and Michael of course. Among the famous tracks are Chief O'Neill's, Stepping Stones, Mist Covered Mountains of Home, Lucy Campbell and the inevitable The Wind Tahat Shakes The Barley here too.
As announced in the title, these two talented musicians go "their own way" during a good hour of musical peregrinations. Pure happiness.
Racket Records RR016 - https://racketrecords.bandcamp.com/