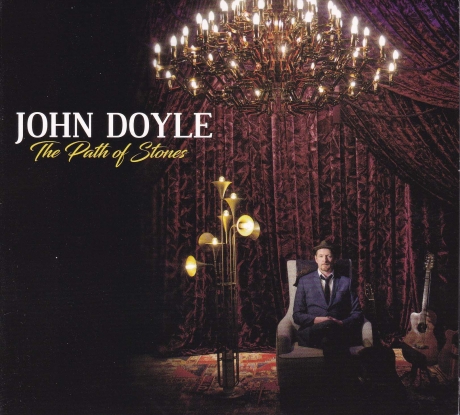 ####
JOHN DOYLE
The Path of Stones
Philippe Cousin
Born in Dublin, from a lineage of traditional musicians and singers, but emigrated to the USA in the early 1990s, John Doyle has already made a lasting impression on the Irish music world.
After founding Solas with a few others and playing with them for seven years, John has accompanied singers and musicians as diverse as Heidi Talbot, Eileen Ivers, Karan Casey, Liz Carroll, Kate Rusby and Joan Baez. A much sought-after studio musician, John has also composed several film scores. Left-handed guitarist with a very rhythmic style, he is known for his use of DADGBE tuning. Currently he is a member of the super group Usher's Island and the trio McCusker, McGoldrick and Doyle. Despite all his collaborations on other people's albums, John has still found time to compose and record three wonderful albums.
The Path of Stonesis the fourth under his own name. It features six songs and four instrumentals, all composed by John, with the exception of the first track, The Rambler from Clare, a traditional Irish song. With his beautiful tenor voice, John Doyle sheds throughout this album some pearls of delicacy and sensitivity. Let's only mention Lady Wynde, Teelin Harbour or The Path of Stones which gives its title to the album and which he wrote from a poem by the great Irish author W.B. Yeats. His friends Mike McGoldrick and John McCusker, Cathy Jordan the singer of Dervish, Rick Epping and Duncan Wickel are here to assist him in his work. John Doyle writes about subjects that touch him and no doubt the songs on this album will become classics of Irish music in the next few years.
Compass 7 4739 2 –www.compassrecords.com ou www.johndoylemusic.com