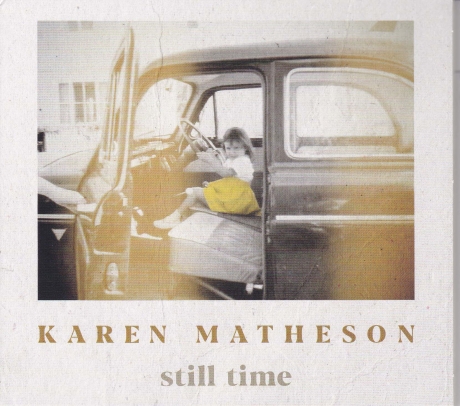 ####
KAREN MATHESON
Still Time
Philippe Cousin
It's been six years since Capercaillie's voice, Karen Matheson, last graced us with an album. Taking advantage of the lockdown in Scotland as elsewhere, she has just put the finishing touches to her fifth solo album with her husband, the composer and musician Donald Shaw.
Karen has built up an exceptional repertoire and aura over the course of her thirty-seven year career, both within the band Capercaillie and as a solo artist, as well as alongside artists such as Emmylou Harris, James Taylor, Nanci Griffith and the Breton Dan Ar Braz.
Karen had been working for about ten years, not knowing in which direction to go. She was thus in possession of drafts of songs or more accomplished tracks. And while the world stood still, Still Time was born with the help of some brilliant and familiar musicians: James Grant, John Doyle, Michael McGoldrick, Ewen Vernal, James MacKintosh and some others.
The title track Still Time was written by Donald Shaw twenty years ago and reflects the passage of time and life's choices. The album is a superb collection of contemporary and traditional songs, since apart from the two tracks written by Donald Shaw, one of Karen's faithful composers, James Grant, is still present, this time on four tracks.
We discover with emotion Orphan Girl by Brendan Graham, an Irish poet, who pays tribute to the 4,000 little Irish orphans sent all over the world, notably to Australia, during the Great Famine of the 1840s. Or Recovery written by brothers Callum and Rory MacDonald of the band Runrig, reflecting the renewed sense of Scottish cultural and political identity.
And then two songs by Robert Burns, the greatest Scottish poet of the 18th century, including the emblematic title Ae Fond Kiss which closes the album.
Undoubtedly Karen Matheson is The great voice of the Scottish scene. Her range is incredible. We have here a performer at the top of her art.
Vertical VERTCD124 - www.verticalrecords.co.uk ou www.karenmatheson.com