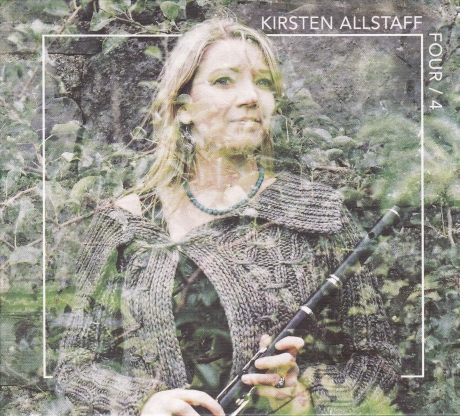 ####
kIRSTEN ALLSTAFF
four/4
Philippe Cousin
Kirsten Allstaff is native from Scotland and lives in the West of Ireland in Co. Clare. No wonder she is influenced by the cultures of these two countries.
Five years ago she released her critically acclaimed debut album Gallowglass. She returned in 2020 with Four/4, an album with a somewhat enigmatic title. Nothing to do with a fourth album since this is only her second opus. Four/4or rather 4/4 is the musical measure in which the reels that occupy a prominent place on this album are composed. About fifteen in all.
It's with a Scottish tune by Neil Gow, an 18th century fiddler, that the album begins, Athole Brose, a tune that can be found in Ireland under a different title. We meet this composer later on the album with Neil Gow's Lament for his Brother. Scottish dances, waltzes and strathspeys intermingle with Irish reels and jigs. Among the tracks that make up this elegant album, let's linger on Maggie Moore's Pancakes, a Scottish piping tune that Altan had played in 2015 on their album The Widening Gyre, or Jug of Punch, a standard of the Irish tradition. And also The Little Cascade, a Scottish song, the title track from Capercaillie's very first album, and covered by Dan Ar Braz and the Celtic Heritage. Less common is The Plevin, a composition by Breton guitarist Soïg Siberil. Finally, let us underline the magnificent Scottish lullaby Oran Na Maighdean Mhara, the dance of the mermaid.
The album concludes with a very famous Brazilian tune, Tico Tico, learned from the accordionist Dermot Byrne. Five years ago Kirsten released a superb album. Why change a winning team. Her second album is also, from start to finish, a real success.
Autoproduit OAIM002 - www.kirstenallstaff.com