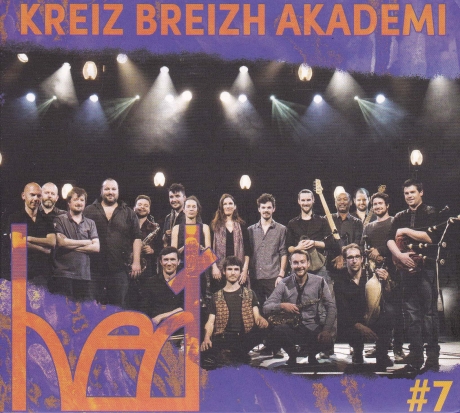 ####
KREIZ BREIZH AKADEMI #7
Hed
Philippe Cousin
Since 2004, Erik Marchand has initiated a professional music training programme for young Breton musicians, under the name of Kreiz Breizh Akademi, with the aim of promoting popular cultures of oral tradition and modal music.
To date, seven promotions have been created, bringing together between twelve and eighteen musicians. After Norkst, Izhpenn12 who worked on strings, Elektridal in 2010 on electric instruments, Lieskan on singing, 5ED Round again on rubbed strings, Pobl'B'ar Machin(e) on electro, here comes Hed whose theme is traditional bagad instruments, bagpipes, bombarde and percussion. Eighteen musicians worked for a year and a half in contact with artists from the Balkans, the Middle East, India but also from jazz, to build a sound where modal improvisations and complex rhythms intermingle. To do so, they met and worked with a dozen musicians including Titi Robin, Sylvain Kassap, Mehdi Haddab and Yom....
Hed is the name they chose for their collective, a word that means swarm in Breton, a word that perfectly symbolizes the community work they have done. All this work has resulted in the recording of a superb 12-track album. With the exception of one, all the pieces are traditional. Pieces that they gleaned, under the guidance of Erik Marchand, from Dastum's collections. They listened to and analyzed all these recordings and came out with very beautiful versions with complex and rich arrangements. Throughout the album we will appreciate the bagpipes, bombardes and drums but also, as almost each of them masters several instruments, flute, trumpet, trombone, saxophone, various percussions, electric guitar and bass. And then let's not forget to mention the two singers who use, it's obvious, the Breton language, whether it's for kan ha diskan or gwerz (complaint). The whole album is a total success with Erik Marchand as artistic director and André Le Meut as godfather and artistic speaker. Absolutely fantastic !
Coop Breizh CD 1166 - www.coop-breizh.fr