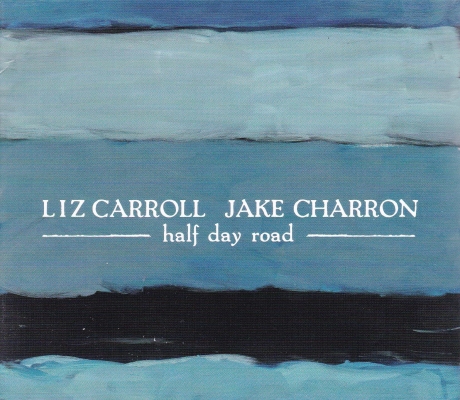 LIZ CARROLL AND JAKE CHARRON
Half Day Road
Philippe Cousin
We hadn't listened to a Liz Carroll's album since the magnificent On the Offbeat in 2013.
After playing alongside Cherish the Ladies, Trian and John Doyle on several albums since the 2000s, she has been joined by a young Canadian guitarist and pianist from Ontario, Jake Charron. These two North Americans with Irish origins offer us a superb album Half Day Road, superb both for the music it conveys and for the cover that is due to the talent of the artist Sean Scully. A painting entitled Landline Wave in the colours of the ocean that connects the USA to Ireland.
We knew Liz's immense talent, but this young musician's talent is no match for his eldest, as he excels both on guitar and piano. As a violinist and composer, Liz Carroll has always, through her creativity and talent, brought traditional Irish music into her time. It does not derogate from this rule by offering us eleven original compositions, the twelfth title being the work of Jake Charron.
For her compositions, Liz is inspired by the people and places around her. Thus Half Day Road named after a road near her home in Illinois. Half Day, the English translation of the name of an Indian chief Potawatomi. She also pays tribute to her peers: Compliments to Jimmy Keane or Planxty Mary Fahey. And the superb Brandan Carroll who salutes the memory of a young cousin who died early. As The Crow Flies will also be recognized on the recent album of the String Sisters, of which she is a member. As for Jake, he composed a delicate lullaby Last of the Leaves for his little girl born last autumn. Beautifully beautiful.
Some guests joined them: Joanie Madden on tin whistle, Chico Huff on bass and John Anthony on percussion. A new success to the credit of a leading artist, recognized in both the United States and Ireland. A musician whom you may have the pleasure of listening in Brittany where she makes frequent stays, especially to lead master classes in fiddle.
Autoproduit LC0002 - www.lizcarroll.com