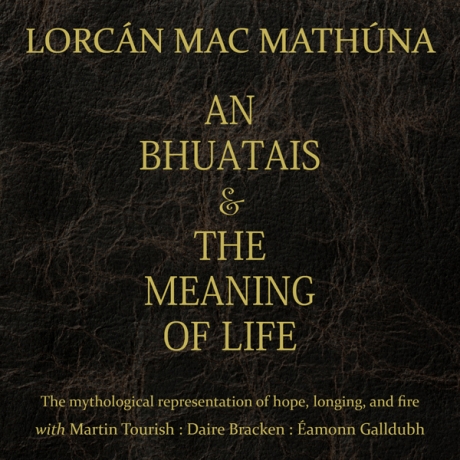 LORCÁN MAC MATHÚNA
An Bhuatais & The Meaning of Life
Philippe Cousin
Since the release of his first album in 2007, Lorcán Mac Mathúna has pursued a career on the fringes of the traditional Irish scene.
Here is a singer and songwriter who is a shaman of sean-nós, a style that evokes a world of intense emotion, coloured by mythology and ancient legends. Lorcán is particularly interested in the nature of vocal music, and the numerous projects he has carried out over the last fifteen years focus on the improvisation of the human voice. He focuses on a capella singing, contemporary compositions and musical writing based on syllabic poetic forms, magnifying this ancient style of Gaelic singing and its elaborate ornamentation. His original music explores the philosophical underpinnings of mythology.
For his latest recording, An Bhuatais & The Meaning of Life, Lorcán has produced a superb objet d'art, a 112-page hardback booklet with gold leaf lettering. It is a collection of fourteen more or less known ancient songs. Plait agus Domhnaill, for example, goes back to the battle of Clontarf in 1014 when Brian Boru defeated the Vikings, while Leachtain Suibhne recalls the mad king Sweeney. On An Droimeann Donn Dílis we hear an 18th century political allegory. And then the agrarian unrest and deportation to Australian penal colonies in the early 1800s on Na Connerys.
Offering a holistic approach, the booklet includes not only the lyrics in Irish and English, but also information on each song and a comprehensive essay on traditional Irish music and folklore. Alongside Lorcán are the usual Martin Tourish on accordion, Daire Bracken on fiddle and Éamonn Galldubh on uilleann pipes and flute. A true work of art.
Autoproduit LMM2001 - www.lorcanmacmathuna.com