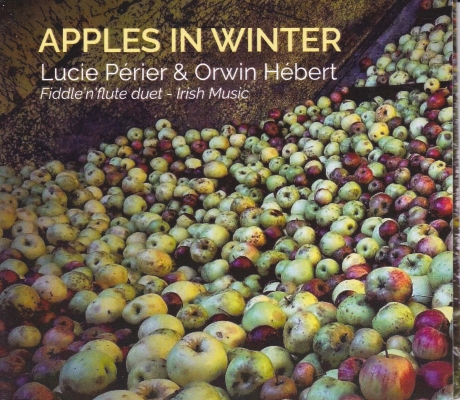 ####
LUCIE PÉRIER & ORWIN HÉBERT
Apples in Winter
Philippe Cousin
Irish music is so popular all over the world. The last duo to emerge in France is that of flutist Lucie Périer and violinist Orwin Hébert.
Lucie was born in Saint-Lô (Normandy) into a family of musicians who were passionate about Irish music and this had a decisive influence on her life from a very young age. She is inspired by Irish, Breton, Scandinavian, but also Romanian and Turkish traditions and she gives great importance to singing and dancing to nourish her playing. What is less common, however, is her use of a metal flute where Irish musicians prefer the wooden flute. This does not, however, alter the finesse of her musical playing. His companion Orwin Hébert, for his part, received classical training before becoming interested in Irish tradition in his late teens. Exploring many styles (classical, jazz, swing, trad) with deep respect and perfect mastery, he is a respected and sought-after artist.
Apples in Winter, an Irish standard, is their first album as a duo, a title chosen in reference to their first meeting on a cider pressing day. A very beautiful album of fourteen tracks gleaned from the very rich Irish tradition. Jigs, reels, hornpipes, barndances and waltzes follow one another. Traditional but also tunes borrowed from Tommy Peoples (The Green Fields of Glentown), Mick O'Brien (The Cuckoo's Nest), Liz Carroll (The Plane on the Plank), Paddy Canny, Mary MacNamara and many others.
Some tracks bear the imprint of Lucie (Farewell to Caledonia, The Stork Takes Its Flight and Planxty Koé) and Orwin (Koko's Jig).
Three guests join the duo on the recording: Eddy Guilloteau on bodhrán, Jacky Beaucé on flute and Nicolas Delatouche on accordion.The flute style is fluid and richly ornamented while Orwin's fiddle delicately accompanies Lucie's instrument. A beautifully crafted album that has little to envy the records of the Irish musicians themselves.
Autoproduit - www.lucieperier.com