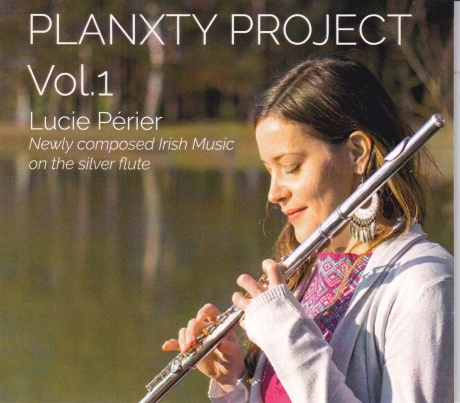 ####
LUCIE PÉRIER
Planxty Project Vol.1
Philippe Cousin
In 2020 I presented the first album of Lucie Périer, a young French flutist playing Irish music.
A few months later, she is back with a new album Planxty Project Vol.1 which, with such a title, certainly announces a sequel. The particularity of L. Périer is that, unlike almost all traditional Irish flautists who play the wooden flute, Lucie plays a metal flute, with a significantly different musicality.
Again, as the title suggests, this is Irish-inspired music. But it's a special kind of music, because despite the unmistakable musical colour and titles, the ten tracks on this delicate album are in no way traditional, all of them emanating from Lucie's rich inspiration, even if it has its roots in the Emerald Isle.
Hand-crafted pieces, both simple and complex, which, according to the short introduction, will give you soothing vibrations, melodies in close harmony with nature, which will lead you straight to "Mother Earth". An album entirely dedicated to the flute, for which Lucie did not use any guests or studio tricks. Pure music. Her technique is perfect, her playing is clear, but don't be fooled, the research work is palpable.
Don't expect traditional reels or jigs. Apart from one polka and two dance tunes, all the tunes are the result of Lucie Périer's boundless inspiration. The only regret, however, is the brevity of this album, which lasts only about thirty minutes. When will Volume 2 be released?
Autoproduit - www.lucieperier.com