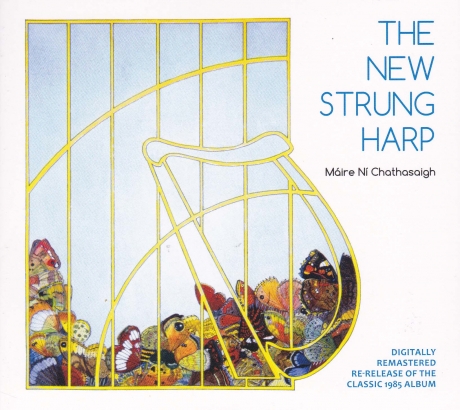 ####
MÁIRE NÍ CHATHASAIGH
The New Strung Harp
Philippe Cousin
She grew up in a family of West Cork musicians. Máire Ní Chathasaigh, who is little known in Ireland, is nevertheless considered to be one of the major harpists to have revived the instrument in Ireland. She is none other than the sister of Nollaig Casey, who took part in the Celtic Heritage adventure.
She has already had a long career, producing solo albums, several with her husband, guitarist Chris Newman, and others with members of her family. She has developed instrumental techniques of ornamentation for dance music and for the harp, an instrument hitherto confined to the role of accompanist.
In 1985 she produced an album that marked the history of the Irish harp as it was the first to focus on traditional dance music. Produced at the time by Temple Records, when this small label went out of business, Máire reclaimed the rights to her albums.
And so it is The New Strung Harp, his 1985 album, which is being re-released today fully digitally remastered. This album, his first, is not strictly speaking a solo album, since his brother and sisters took part in it: Nollaig on fiddle, Mairéad on whistle and Greg on vocals.
The album focuses on traditional music, and includes several compositions by the famous blind harpist Turlough O'Carolan (1670-1738), Charles O'Connor and Madam Maxwell. Jigs, reels and hornpipes follow one another before giving way to the magnificent Planxty Sudley, which closes the album. All of this is interspersed with a number of songs on which Máire proves that she is not just a talented harpist, but also has a beautiful, clear and expressive voice.
An album that's almost 40 years old and hasn't aged a bit, as fresh and colourful as when it was recorded. Note the superb painting by Colm Murphy (ex bodhrán of Dé Dannan) which illustrates the sleeve and enhances this little musical gem.
Old Bridge Music OBMCD25 – www.oldbridgemusic.com