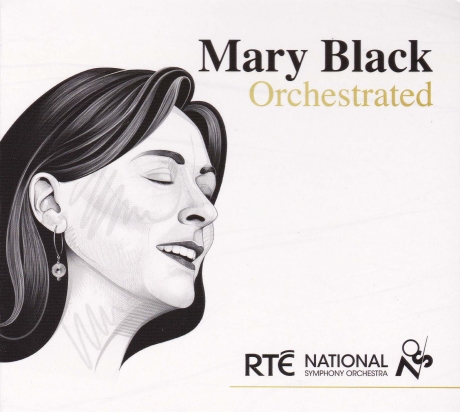 ####
MARY BLACK
Orchestrated
Philippe Cousin
In recent years, it seems to be a tendency for Irish musicians to join symphony orchestras: Altan, Lúnasa, Moya Brennan.
This time it is the turn of the icon of the Irish scene, Mary Black, to be joined by the national symphony orchestra of the RTÉ. Although at first glance this might seem like a collection of mostly familiar songs, it is not. Here is a project that places Mary Black in a new direction and gives a new lease of life to some of her iconic songs.
In partnership with the RTÉ Orchestra, recorded at the National Concert Hall under the direction of conductor Brian Byrne, the eleven tracks of Orchestrated show, if proof were needed, that Mary Black's voice still has the same brilliance as it did when she made her debut in the 80s with Dé Dannan. Opening with Joni Mitchell's The Urge for Going, the album includes a majority of tracks from his albums of the 90s. We are pleased to find No Frontiers, Carolina Rua, Summer Sent You, The Dimming of the Day with its poignant nostalgia, Turning Away or Bless the Road, on which Mary's voice sublimates the texts of the best contemporary authors: Jimmy McCarthy, Thom Moore, Noel Brazil, Richard Thompson, Dougie McLean, Steve Cooney...
Although sometimes the strings tend to be a little too present and overwhelm the melodies, the whole album delivers a feeling of serenity on which Mary's crystal-clear voice finds all its fullness. A few years ago, Mary Black announced the end of her career. Apparently, to our great pleasure, this is not the case.
3ú Records - TUCD 050 - www.mary-black.net