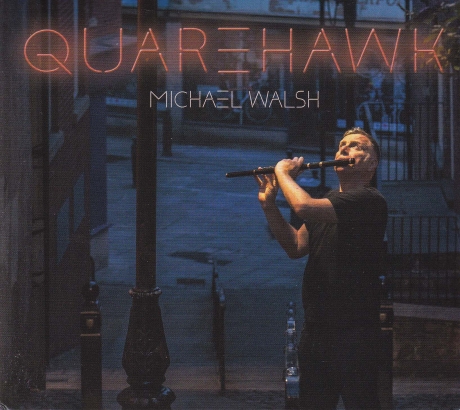 ####
MICHAEL WALSH
Quarehawk
Philippe Cousin
Michael Walsh is part of the vast Irish diaspora since his father Patrick had emigrated in 1957 from Mayo County to England, like so many Irish people who worked to build the English motorways.
Born in Manchester, he grew up learning the flute in the Sligo style with Marian Egan and Tony Ryan. Today he is an esteemed professor of music at the University of Sheffield, specialising in traditional Irish and Asturian music. After many years, he has finally embarked on the recording of a completely original album which, if inspired by tradition, gives a large place to his own career.
Quarehawk who gives its title to the album is indeed a vibrant tribute to his wife and children. Michael sings a very beautiful text, supported in counterpoint by the accordion (trikitixa) of the Basque Kepa Junkera. There is also The Shores of Lough Bran, a song already performed by Dolores Keane on Dé Dannan's first album in 1975. A very nice tribute to his father who died two years ago during the recording of this album. Michael sings in English, Ríoghnach Connolly in Irish and Leticia González Menéndez in Asturian. A heart-breaking piece that evokes the loss of language, family and identity and emigration.
On the first track The Late Revival/Marian's Favourite, recorded in the style of the 78 rpm of the 1930s, we can hear the crackling of the records of the time. And we find ourselves transported to the golden age of Irish-American music by Michael Coleman and James Morrison. Tribute to Peadar O'Donnell, composed by Dónal Lunny while he was playing with Moving Hearts, is also worth mentioning, in tribute to a great Irish Republican and Socialist activist. And then Barralin/Pasucáis de Uviéu, two Asturian tunes by J.M. Tejedor and Llan de Cubel. It is impossible to mention the fifteen or so musicians, so many of them, who have contributed to the album. This is a superb album that perfectly expresses raw emotion. Great stuff.
Autoproduit MPWQH001 - www.michaelwalshmusic.com