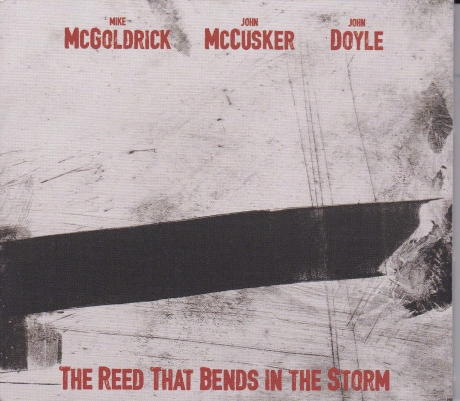 MIKE McGOLDRICK - JOHN McCUSKER - JOHN DOYLE
The Reed That Bends in the Storm.
Philippe Cousin
Take three virtuosos of Irish and Scottish music, mix them together and the result is a truly talented trio.
Mike McGoldrick, John McCusker and John Doyle met in their early teens while cutting their teeth in various bands - Toss the Feathers, Lúnasa, Capercaillie for M.McGoldrick, Battlefield Band for J.McCusker and Solas for J.Doyle. As the years go by and their collaborations with the top of Celtic music follow one another, they meet again almost by chance during the recording of the Transatlantic Sessions for the BBC in 2007. This reunion was quickly concretized by a live album in 2009, followed by The Wishing Tree in 2018.
This year it's their third album that they present to us, The Reed That Bends in the Storm, an opus once again of very high quality.
As they are all excellent musicians and composers, it's no surprise that they write a majority of the tunes and songs. John McCusker's Jenny Wren opens the album in a quiet way, flute and fiddle in unison. McCusker swaps the fiddle for an accordion to accompany John Doyle's guitar and voice on Factory Girl.
You'll recognize O'Carolan's tune, Princess Royal on which Doyle sings Napoleon Bonaparte.
You will enjoy a suite of three tunes by Michael McGoldrick The Dolder Set followed by The Jura Wedding Reel by Donald Shaw. Making infidelities to Ireland and Scotland, Asturian Set refers to the Asturian band Llan De Cubel while the album ends with Taimse Im Chodladh, a standard by Liam O'Flynn and Planxty.
In a little over an hour, this trio gives us fresh and inventive tunes, new songs and old standards, all in a perfection that never fails.

Under One Sky Records UOSR007 - www.birnamcd.com