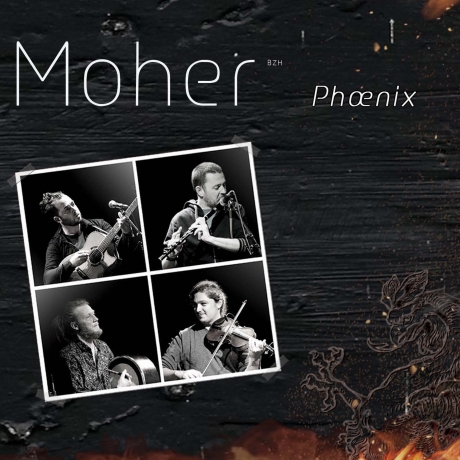 ####
MOHER
Phœnix
Philippe Cousin
A band from Rennes is Moher, a quartet united by their love of Irish music. The group's origins lie in the Irish sessions they used to have at a bar in Rennes.
Each of the four members has a wealth of musical experience, both in their initial training and on stage, having played in a variety of bands. There's Corentin Quimbert, a seasoned guitarist who has cut his teeth at dozens of festoù-noz. Antoine Pihier, who began learning the tin whistle at the age of 13 before turning to the wooden flute and spending some time in Dublin, where he wandered from pub to session. Konan Goré started playing the fiddle at the age of 5, and has been doing so ever since. And finally Anthony Debray, an experienced percussionist who gives the group's music a frenzied rhythm on his bodhrán.
After two years of concerts and a tour of Belgium and the Netherlands, they decided to release an album, Phoenix, a nine-track opus that has nothing to envy the most famous Irish bands.
They have chosen the name of the famous cliffs in the west of Ireland, Moher. Like those cliffs, their music can be steep and dizzying, but it's always played with authenticity. The proof is in all the musicians and bands they mention on their album as having influenced them: Arcady, Niall Vallely, Flook, Arty McGlynn, Solas, Kevin Burke, Michael McGoldrick and Lúnasa. Excuse the pun!
The album opens with a suite of reels, Phoenix, Hervitmon, which begins with a series of slip-jigs by N. Vallely, and The Noisy Curlew, which features a particularly 'rough' flute solo. Alan Kelly's Salamanca Samba takes us to sunny climes, Leaving Brittany, a beautiful waltz, and finishes with a selection of McGoldrick's jigs.
From the first note to the last, a devilish energy that highlights an original and recognisable sound. A real success.
Autoproduit - contactmoher@gmail.com